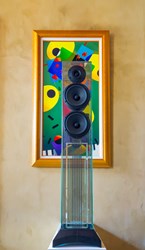 This is the perfect one-of-a-kind event to expand awareness for our one-of-a-kind works of audio art.
New York, NY (PRWEB) February 20, 2014
Nouveau Distributing, the exclusive wholesale representative for Waterfall Audio speakers in the U.S., Canada and the Caribbean, today announced their inclusion in the upcoming RAND Luxury Technology Show, a best-in-class display for electronics and technology in conjunction with The Wall Street Journal (official media sponsor).
RAND Luxury will host this unique event that gathers press/media, retail executives, and interior designers, along with affluent consumers interested in acquiring the world's finest innovations. Held March 4th at the Metropolitan Pavilion in New York, brand ambassadors from a wide variety of industries will be on hand to showcase their latest technology.
Nouveau Distributing will have a number of Waterfall Audio models on display, their patented glass speakers representing various product categories (including Home Audio, Home Theatre, Home & Business Electronics, High-end Appliances and more), along with a premium deliverable containing their newly developed Media Kit.
"It's an honor to have been invited to participate in the inaugural Luxury Technology Show," said Joseph Kirby, founder of Nouveau Distributing. "With just 50 innovative signature brands, attendees will have more opportunity for one-on-one interaction than a large-scale trade show; Waterfall Audio speakers will have a more intimate showcase exhibition. This is the perfect one-of-a-kind event to expand awareness for our one-of-a-kind works of audio art."
The atmosphere of the exclusive event will include signature cocktails, fine hors d'oeuvres, and hand-rolled cigars while brands unveil their latest innovations. The Press/Media, Buyers and Industry Affiliates will be reviewing participants from 3-6PM, while Invited Guests will be pampered with exquisite cuisine by Vai Restaurant from 6-9PM.
About Nouveau Distributing
Nouveau is the exclusive U.S., Canada and Caribbean distributor for Waterfall Audio of France, whose glass speakers are highly regarded as much for being artistic showpieces as for their excellent sound. Founded by Joseph Kirby, the Nouveau team represents decades of design and installation experience in the professional audio/video industry. Nouveau Distributing was launched expressly to introduce the Waterfall line; sculptural works of art – precision music machines delivering exceptional sound.
Visit the all-new Nouveau Distribution website at http://nouveaudistributing.com.