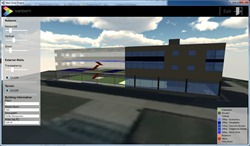 Colorado Springs, CO (PRWEB) February 20, 2014
The Sanborn Map Company announces the expansion of its innovative 3-D product line with the groundbreaking Sanborn 3D Stacking Plans.
Stacking plans originated as two-dimensional charts displaying the arrangement of tenants on floors in high-rise office buildings or condominiums. They are typically shaded or color-coded to represent lease terms of the building's tenants, such as expiration date and square feet leased.
"Sanborn has taken stacking plans to the next level by creating a fully interactive 3-D building, complete with floor plans and tenant maps," says Dave Lorenzini, a 3-D industry expert.
Sanborn delivers its affordable, fully interactive 3D Stacking Plans on demand, allowing users to quickly explore their buildings, floor plans and tenant maps from every angle. The easy-to-use product adds a new dimension to how people view, manage and explore properties.
"This is a game-changing tool for prospective tenants, investors, building owners or buyers," says Ryan Garnett, Sanborn 3-D visualization product manager. "The easy-to-use interactive controls let you effortlessly pan and tilt to view an entire building from virtually any angle, then zoom in on a single floor, or even a cubicle or office."
Users can click on any part of a building for detailed building, lease and other key information. Sanborn's 3D Stacking Plans are quickly created from your floor-plan pdf, property photos and tenant data. The turnkey service comes with easy-to-use Web, mobile and iPad viewers, and can be hosted as a link, e-mailed to clients or seamlessly integrated into your website.
With Sanborn's custom 3D Stacking Plans, users can turn on and off walls, terrain and sky, and choose custom color schemes to complement existing sites. Also included is the fully customizable display of occupancy, lease rates and more.
About The Sanborn Map Company
Sanborn is a preeminent leader in the exploding geospatial industry, delivering state-of-the-art aerial mapping solutions to customers worldwide. Using cutting-edge technology, Sanborn specializes in high-quality aerial and mobile LiDAR, aerial orthophotography, 3-D modeling and visualization, oblique aerial imagery and software development. The firm currently operates a fleet of 14 aircraft across the United States. Sanborn's technology advantage, innovative image processing expertise, a local presence nationwide and project management proficiency deliver unmatched value to its global customers.
For more information contact:
http://www.sanborn.com/company/contact
The Sanborn Map Company