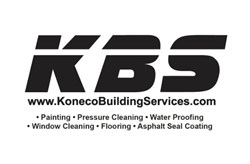 Orlando, FL (PRWEB) February 19, 2014
Millions of visitors near and far set their eyes on the iconic Planet Hollywood globe at Downtown Disney, but what people don't know is the level of work behind-the-scenes that goes into keeping that landmark's luster. Picture several men suspended upwards of 150 feet in the air for six to eight hours per day, and this is just the everyday work of young entrepreneurs Ernie Falco III and Wolf Adler of Central Florida based Koneco Building Services (KBS). Originally founded as Elite Pressure Wash, Inc. in 2007 by then 26-year-olds Falco and Adler, KBS has expanded into specializing in a variety of small to large-scale facility maintenance projects including painting, power washing, asphalt sealcoating and line striping, window cleaning, concrete repair/installation and tile cleaning to provide more reliable services for their growing clientele.
An industry leader in exterior and interior building services throughout the Southeast, KBS' well-regarded resume includes projects with Pepsi, Planet Hollywood, CBRE, Darden, Universal Studios, Sea World, Discovery Cove, Red Bull, MacDill AFB, Mayo Clinic, Florida Hospital and most recently Florida Citrus Bowl. KBS believes in providing all clients with friendly customer service, timely quality work at a competitive price and stands behind its work. These core business values have enabled them to create a long list of satisfied customers, which has resulted in large growth year-over-year for the company. "We specialize in providing prompt, cost effective, quality services," says Falco. "Reliable vendors are hard to come by in our industry, thus our slogan: Done Right… On Time… As Quoted™."
Director of Operations Falco's accomplishments in business began at the early age of twelve when he started thinking of innovative ways to earn money. Within a year, he had a small neighborhood lawn business earning several hundred dollars weekly. An entrepreneur at heart, Falco expanded on his business ideas while attending college at the University of South Florida. Prior to co-founding KBS, he launched several successful web-based companies including: Tornado Promotions, an Internet marketing and consulting firm with high-profile clients such as Delta, Priceline, Progressive, Quicken Loans, National Association of Professional Athletes, 'Nsync, Daunte Culpepper, Lebron James, Orlando Regional Chamber of Commerce and hundreds more. Falco was also the visionary behind RedCarpetMonday, the online and offline business networking service that currently connects successful business owners, professionals and entrepreneurs through hosting monthly live events in markets throughout the southeast - and JetCharters.com, the private air charter industry's leading charter marketplace servicing over 20,000 private air charter flight requests annually.
Director of Sales Adler has had the innovative, entrepreneurial spirit since his childhood, always working on creating new inventions and having an interest in forming businesses. He earned two separate undergraduate degrees from the University of Central Florida in the College of Business with a B.S.B.A. in Accounting and Finance and then went on to receive a Master of Science in Accounting from UCF. During his college career he was heavily involved in the college business community and associations. Wolf spent the first part of his professional career working in traditional corporate America at two of the "Big Four" accounting firms Deloitte & Touche, LLP and KPMG, LLP. During his stint he worked on multiple Fortune 100, 500 and other nationally and world-known companies such as Siemens, Home Depot, Orlando Magic, Hyatt, Ruth Chris, Bert Fish Memorial Hospital, Badcock, Walt Disney Swan and Dolphin and more before coming together with local middle school friend Falco and starting KBS.
Together, Ernie and Wolf take their years of leadership, business, industry, marketing, finance and communications experience to form KBS and offer a one-stop shop with a full array of facility maintenance services, unmatched on-the-job productivity and efficiency, cutting edge state-of-the art equipment, extensively trained and experienced personnel, dedicated on-site supervision and maintenance personnel. "We strive to achieve the maximum effort every day to meet or exceed our clients' expectations," says Adler. "It is our goal to have you consider us an extension of your workforce and to become a valued vendor your team you can rely on."
For more information on Koneco Building Services, visit http://www.kbsflorida.com, http://www.facebook.com/konecobuildingservices or call 1.800.282.5939.
Media Contact: Ilene Lieber, 321-277-7812, ilene(at)passionprconsulting(dot)com