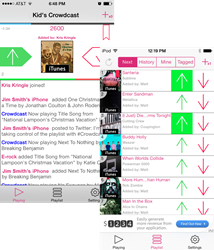 Crowdcast gives guests a voice in what music gets played, and even lets them add their own.
Milford, CT (PRWEB) February 20, 2014
DataViz, Inc., a leading provider of iOS software, today announced the availability of Crowdcast™ for iOS. Crowdcast lets guests at parties and social gatherings interact with living playlists by voting for the songs they like. Guests can also add favorite music to playlists from their own devices.
"Music can set the tone for any event and we've all been in social settings where we wish we had a say in the music selection," says Matt Lucia, head developer for Crowdcast, DataViz, Inc.
"Crowdcast gives guests a voice in what music gets played, and even lets them add their own. Crowdcast promotes crowd participation, inherently making any event or gathering more social and interactive."
The Crowdcast app interface allows a host to start a Crowdcast by selecting songs from their existing music library. Friends and guests can then join the Crowdcast, vote songs up or down, add their own music and share their activity on Twitter and Facebook.
"Work" Hard, "Play" Hard
DataViz has traditionally focused on business & productivity apps for mobile enterprise and prosumer users. Crowdcast is new and exciting territory for DataViz, now targeting music, social and entertainment users with a 'party-sourced' playlist app.
Crowdcast Highlights:
Easy set-up – To get started, a host simply selects or builds a playlist from their music library on their iOS device, names the party, and taps start. Once guests download the free Crowdcast app and connect to the same Wi-Fi network, they'll be able to join the party and start voting.
Voting – 'Upvote' or 'downvote' on currently playing and upcoming songs to impact the order of the playlist.
Booting – When enough guests 'downvote' a song, it becomes 'booted' and the next song on the list will start playing.
Add your own – Guests can add songs to the playlist from their own music libraries with earned and/or purchased 'upload' credits.
Play next – Avoid waiting by selecting songs to 'play next' via purchased credits—just like a jukebox.
Tagging – Mark songs to revisit or purchase later or to have automatically 'upvoted' at future parties.
Facebook/Twitter sharing – Share Crowdcast activity on Twitter and Facebook.
Pricing & Availability
Crowdcast is available for free on the App Store and is compatible with iPhone, iPod touch, and iPad. Requires iOS 7.
For more information on Crowdcast, visit CrowdcastApp.com and/or the App Store and be sure to follow Crowdcast on Facebook for the latest news, tips and product releases.
About DataViz
Founded in 1984, DataViz, Inc. is an industry leader in developing software solutions for iOS, Android™, BlackBerry, Windows®, and Mac platforms. DataViz partners include Microsoft®, Motorola®, BlackBerry, Samsung, Sharp®, and other industry leaders.
All product and company names are trademarks or registered trademarks of their respective holders. ©2014 DataViz, Inc.