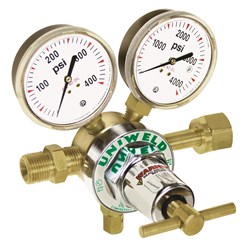 Uniweld, 65 years of manufacturing excellence.
Fort Lauderdale, FL (PRWEB) February 20, 2014
Made in USA, with the machined brass body, polished chromed bonnet and 2.5" easy-to-read single scale gauges, Uniweld's new heavy duty single stage oxygen regulator "Mega Reg" has finally arrived.
Mega Reg comes in both "B" and "C" connections with two different delivery pressures at 250 PSI & 500 PSI of your choice.
The Mega Reg provides a maximum flow up to 6500 PSI and the maximum inlet pressure at 3000 PSI and is truly an answer to the customers' need for a quality, high flow oxygen regulator.
Additional Features Include:
•Delrin bushing for smooth flow adjustment
•Fine mesh filter screen between inlet and seat
•Pressure relief device for low pressure protection
For detail technical data, please contact Uniweld or visit page 87 in the welding catalog.
Uniweld Products, Inc. has manufactured quality welding and cutting equipment at its factory located in Fort Lauderdale, Florida U.S.A. since 1949. Refrigeration manifolds & hoses, vacuum pumps, tubing tools, nitrogen kits, cutting torches, welding handles, cutting attachments, pressure regulators, pressure gauges, cutting tips and welding tips are among the products manufactured at Uniweld's factory in Fort Lauderdale. Uniweld provides "Quality tools that go to work with you.®"