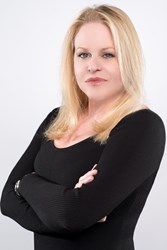 Miami, FL (PRWEB) February 19, 2014
CP+B announced today that they have promoted Katie Kempner to Chief Communications Officer. In her new role, she will oversee the overall communications for the agency's seven global offices in Boulder, Miami, Los Angeles, London, São Paulo and Gothenburg, Sweden with an additional CP+B Sweden office in Copenhagen. Katie, formerly EVP, Executive Director of Global Communications has been with CP+B and their holding company MDC Partners, for her entire career and has played a significant role in shaping the agency's brand.
Katie initially originated the role of Communications Director at CP+B in 1996. Under her media guidance, CP+B and their work received tremendous industry and press recognition, which was an instrumental factor in the growth of the agency. In January 2004, while continuing to run the CP+B communications department, she joined parent company MDC Partners as Sr. VP, Director of Corporate Communications where she oversaw all communications for the network and provided strategic communications counsel to their partner firms. In 2011, she returned solely to CP+B to focus on global growth. A frequent industry speaker, Katie is also a successful Internet personality. She is the creator and host of "Perspectives with Katie Kempner" (http://www.katiekempner-perspectives.com) a digital series that focuses on successful working women balancing busy lives. Her shows have been seen on iVillage, The HuffingtonPost, The Guardian and The Advertising Week site. She recently shot a series of shows at TEDWomen and will be shooting a new series of shows at Advertising Week Europe in March.
"Katie's broad communications knowledge, strategic thinking, media contacts and her ability to work across regions and countries has played a key role in guiding CP+B and our management team over the years," said Andrew Keller, CEO. "She is a true communications strategist with a deep base of media contacts and a real understanding of our work, our culture and most importantly the needs of our clients. Her dedication to addressing the specific challenges facing women in the workplace and sharing her knowledge with others is something we support and I am proud to announce her promotion."
About CP+B:
CP+B, a member of the MDC Partners network, has a client list that includes KRAFT, Mondelēz International, Domino's Pizza, MetLife, Applebee's, Charles Schwab, Fruit of the Loom, Turkish Airlines, Paddy Power and Best Buy. CP+B's employees collaborate across six factories in seven locations: Boulder, Miami, Los Angeles, London, São Paulo and Gothenburg, Sweden with an additional CP+B Sweden office in Copenhagen. The agency is one of the most-awarded in the world, having been named "Agency of the Decade" by Advertising Age and "Agency of the Year" 13 times in the trade press. CP+B has won more Grand Prix awards at the Cannes Lions International Advertising Festival than any other agency in the past 15 years, and is the only agency to have won the Titanium Grand Prix two times.
Please visit us: http://www.cpbgroup.com
Follow us on Twitter: http://www.twitter.com/cpbgroup
Join us on Facebook: http://www.facebook.com/cpbgroup