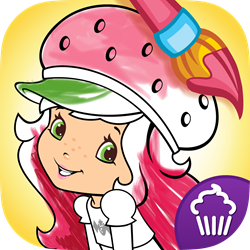 "Strawberry Shortcake's world is such fun. We enjoy giving her fans a new way to play with all kinds of coloring effects, stickers and themes," says Cupcake Digital Lead Producer Rachael Perriello
New York, NY (PRWEB) March 06, 2014
Cupcake Digital and AG Properties, the intellectual property and outbound licensing division of American Greetings Corporation, are giving Strawberry Shortcake fans a new way to play with the beloved character and her berry best friends Cherry Jam, Orange Blossom, Lemon Meringue, Plum Pudding and Raspberry Torte. Kids are invited to create their very own berrytastic masterpieces with paint, crayons, stickers and more in the latest Strawberry Shortcake Color & Play app, available today on the Apple App Store, Amazon Appstore for Android, Google Play and the Barnes & Noble NOOK Store. The app is free with four additional themed coloring packs that can be purchased for 99 cents each or a $2.99 bundle. Each pack offers ten coloring pages and ten stickers in a variety of popular themes from the series, including friendship, dance, seasons, pets and princesses.
"Strawberry Shortcake's world is such fun, and we enjoy giving her fans a new way to play with all kinds of coloring effects, stickers and themes. I like to embellish a scene with stickers featuring berrykins, flowers and butterflies," says Cupcake Digital Lead Producer Rachael Perriello.
The Strawberry Shortcake Color & Play app is designed for children, ages 6-8, to easily tap and perfect how they color and create each page by selecting from various tools, a broad color palette and cool stickers. Completed works of art are automatically saved and can easily be shared by parents through the camera feature on their device.
###
About Cupcake Digital
Cupcake Digital, Inc. was established in June 2012, and has been successfully transforming children's entertainment properties into enhanced story experiences and learn & play apps, giving kids an opportunity to interact with the characters they love. The Company has created noteworthy, award-winning digital applications based on the Emmy®-winning television series "Wow! Wow! Wubbzy!®," The Jim Henson Company's "Fraggle Rock," American Greetings' Strawberry Shortcake, Dreamworks and Big Idea Entertainment's VeggieTales, DHX Media's Yo Gabba Gabba!, and Discovery's Animal Planet brand. The company's apps are consistently top-ranked on the Apple App Store, Amazon Appstore for Android, Google Play and the Barnes & Noble NOOK Store. Cupcake Digital has been recognized with five Parents' Choice Fun Stuff Awards and two Cynopsis Kids !magination Awards honorable mentions. For more information about Cupcake Digital Inc., please visit http://www.cupcakedigital.com.
About American Greetings Corporation
For more than 100 years, American Greetings Corporation (NYSE: AM) has been a creator and manufacturer of innovative social expression products that assist consumers in enhancing their relationships to create happiness, laughter and love. The Company's major greeting card lines are American Greetings, Carlton Cards, Gibson, Recycled Paper Greetings and Papyrus, and other paper product offerings include DesignWare party goods and American Greetings and Plus Mark gift-wrap and boxed cards. American Greetings also has one of the largest collections of greetings on the Web, including greeting cards available at Cardstore.com and electronic greeting cards available at AmericanGreetings.com. In addition to its product lines, American Greetings also creates and licenses popular character brands through the AG Properties group. Headquartered in Cleveland, Ohio, American Greetings generates annual revenue of approximately $1.9 billion, and its products can be found in retail outlets worldwide. For more information on the Company, visit http://corporate.americangreetings.com.
About AG Properties
AG Properties (AGP) is the intellectual property and outbound licensing division of American Greetings Corporation. Built upon the successful re-launches of Care Bears and Strawberry Shortcake licensed products, which have garnered over $5 billion in retail sales worldwide combined since 2002, AGP develops multi-platform campaigns for its properties through digital media, entertainment, marketing and merchandising. In addition to Care Bears and Strawberry Shortcake, AGP's active classic brands include Holly Hobbie and Madballs, as well as new properties Twisted Whiskers, Maryoku Yummy and TinPo. Children can experience AGP online at http://www.agkidzone.com. For more information on AGP, visit http://www.agpbrands.com