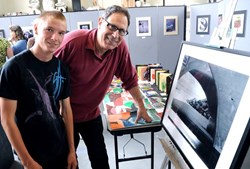 Nikolai became immersed in studying Cherkas, referring to him as the master and inspiring many paintings created at school and home.
Del Mar, Calif. (PRWEB) February 20, 2014
The chances four-year-old Nikolai Spiegelberg would be adopted in 1999 from a bleak Ukrainian orphanage were remote at best, but fate had bigger plans for him. A San Diego area single mother chose him from hundreds of homeless children to be her first child; setting into motion something that could be on par with a young orphan from the former Soviet Union winning the life lottery -- a blissful Southern California childhood and an artist linking him back to his homeland.
Since that fateful day in Ukraine, The Winston School senior's life has taken many serendipitous turns, transforming his childhood and teen years and setting a trajectory for an art-filled life. Aside from his mom and dad (who entered his life after he was adopted) and his brother, an orphan from Belarus, Spiegelberg credits the Winston School, teacher Dan Peragine, and an unexpected connection to Russian and celebrated painter Constantine Cherkas (video produced by Spiegelberg) with inspiring him and instilling a deep love of art. This passion, which has grown over his four years at Winston, is culminating in a series of Cherkas-inspired work that the school will feature at its annual Festival of the Arts on campus May 17, 2014 from 2:30 – 5:30 p.m.
Over the years, Peragine, a 24-year veteran teacher at the school for students with learning differences and a primary force behind the annual festival, has had a tremendous influence on Spiegelberg's life, helping him establish roots in the school while building a bridge back to his young student's homeland. It was while teaching Spiegelberg about Russian history from the Bolshevik Revolution through Stalin and World War II, that Peragine also introduced his young student to artists from this time period, including his own mentor Cherkas.
Peragine, who has exclusive access to Cherkas' archives and wrote an article on Cherkas for the December issue of "Fine Art Magazine," said once he introduced Spiegelberg to the famed artist's work and color theory, Cherkas became the young man's anchor. "Nikolai became immersed in studying Cherkas, referring to him as the master and inspiring many paintings created at school and home."
Of these synergies, Spiegelberg said, "Is it coincidental or is it in the blood of Russians that I came across this artist. It's kind of a miracle that he (Cherkas) is also from Russia.
"When I first met Peragine he introduced me to Constantine's work and I literally could not speak," Spiegelberg said. "His art is something I truly find to be one of a kind. I wasn't even an artist at the time, but it put me in the artist set of mind.
With Cherkas as their common inspiration, Spiegelberg said Peragine has continued to encourage him to improve his art. "I'm doing colorist, cubist stuff and I've been working on my color spectrum. It's a lot of tints and tones of colors – vibrant and colorful. I gravitated toward the pallet."
Spiegelberg has become such a prolific painter that his supplies and artwork are now squeezing traditional furniture out of his room at home. "I have a table with oil and brushes and I sleep on a random futon mattress on the ground in the middle of the room surrounded by about 50 canvasses leaning up against the wall."
Embarking on his final semester at Winston, Spiegelberg is looking back at the last four years with a sense of nostalgia and awe about how much he's experienced, how much he's going to take away, and how much he's going to miss when he graduates. "It's amazing how quick this year is going by and I'm thinking about where I'm going to be even in a year from now – it's slapped me in the face. I've been putting it off – but it's now coming to an end."
A group of pediatricians and parents in San Diego founded The Winston School in 1988 for bright children whose needs were not being met in traditional school settings. The school is the only college preparatory school in San Diego County that provides education to an equal mix of privately enrolled and publicly funded students placed by the school district. Students such as those struggling with autism, Asperger Syndrome, dyslexia, dysgraphia, dyscalculia, ADD, ADHD, specific learning disabilities or learning disorders, nonverbal learning disorders and slow maturation find what they need in the school's small, safe and caring environment.