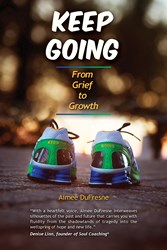 "Moving forward is not about leaving your lost loved ones behind. Their essence is within us eternally. A way to honor them is by living in the present moment and creating a beautiful future."
Richmond, VA (PRWEB) February 21, 2014
On her thirtieth birthday, Aimee found herself celebrating in Iceland with her husband Ben, who had surprised her with a trip to the winter wonderland. The year ahead looked promising, but by year's end she will lose her father to cancer and her husband Ben in a motorcycle accident.
Debut author Aimee DuFresne shares her personal journey from grief to growth to inspire women experiencing loss to keep going and fully embrace life.
Keep Going: From Grief to Growth is a page-turning tale that interweaves the past and present. DuFresne recounts the eight-year love story she shared with Ben as they traveled from New York City to London and throughout Europe.
Her heartfelt journal entries to Ben inform him and readers how she is handling life without her husband and her father and healing from this loss.
As she forges forward with her life, DuFresne embraces the lessons she learned from both men and begins to let go of fears to start living fully. She takes the reader on her journey of running her first marathon, changing her career, moving back to the USA and, eventually, finding love again.
Keep Going: From Grief to Growth is a powerful piece about love, loss, living in the moment and the power of perseverance.
DuFresne says, "Moving forward is not about leaving your lost loved ones behind. Their essence is within us eternally. A way to honor them is by living in the present moment and creating a beautiful future." In one of the shared journal entries to her late husband she writes, "You make me so happy, even now. I could feel you and Dad pushing me along the course when I got tired. Thank you both."
Aimee DuFresne helps women fall in love with life again after loss. Experiencing great tragedy in her own life, she moved forward and accomplished her dreams of becoming a published author, motivational speaker, radio show host, soul coach and healthy living chef. She is married and currently based in Richmond, VA. Keep Going: From Grief to Growth is her first published book.
TITLE: Keep Going: From Grief to Growth
GENRE: Inspirational/Grief Memoir
PUBLICATION: September 2013
AUTHOR: Aimee DuFresne
Hardcover | 5.5 x 8.5 in | 256 pages | ISBN 9781452570457 | $35.95
Softcover | 5.5 x 8.5 in | 256 pages | ISBN 9781452570433 | $17.99
E-Book | ISBN 9781452570440 | $4.99
PAGES: 256
PUBLISHER: Balboa Press
Available at Amazon and Barnes & Noble
For more information, visit http://www.aimeedufresne.com