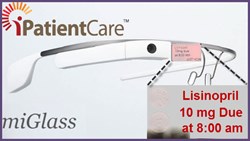 With a vision to spark innovative ideas that engage patients in their own health care, Google Glass based application "miGlass" is just one more addition to the iPatientCare products suite, said Kedar Mehta, CTO, iPatientCare.
Orlando (PRWEB) February 20, 2014
iPatientCare, Inc., a pioneer in mHealth and cloud-based ambulatory EHR and integrated Practice Management solutions announced to launch innovative technology Google Glass App named "miGlass" to Enhance Current State of Patient Engagement and improve Medication Adherence at HiMSS 2014 Annual Conference to be Held at Orlando, FL, February 23-27, 2014. Visit iPatientCare Booth #1423 to experience a jaw dropping innovation in HealthCare IT.
Sticking to the commitment to improve outcomes via constant innovation, iPatientCare has brought forth a Google Glass App named "miGlass". This readily available technology offers many features that have been designed to help patients and providers improve healthcare behavior. "miGlass" the user friendly Application approaches to all the patients with a hands-free, voice-controlled access to the clinical data in order to improve healthcare quality by engaging them in their own good health. It is a real-time voice, video, and image capture technology that enables the sharing of first-hand experiences with healthcare providers.
Leading transformational change in healthcare technology, iPatientCare aims to pave the way towards improved patient engagement and medication adherence by creating a healthcare system that thrives on constant improvements and utilization of latest technology changes. "Medication adherence is a persistent and elusive problem, interrupting patients' wellbeing, costing healthcare providers and causing preventable deaths, iPatientCare's commitment for better outcomes proves itself a breakthrough in reducing the harm that comes from medication non-adherence," said Kedar Mehta, CTO, iPatientCare.
Kedar Mehta further added, "Patient engagement being a concern and as it redefines patient's role in healthcare IT. Using game changing technology iPatientCare is committed to develop products that help individuals to take control of their own health outcomes. With a vision to spark innovative ideas that engage patients in their own health care; a shift to patient-centered care was required as a multipronged approach and Google Glass based application is just one more addition to the iPatientCare products suite."
"Exploiting the latest technology changes miGlass App is a complete patient and provider centric App which will provide exclusive benefits to patients like a take home video record for new information and procedures learned during the patient's office visit, this ensures they can duplicate the dressing change, dosing schedule or follow the instructions that were provided by their healthcare team. miGlass can be used as a reminder tool to reinforce desired health behaviors. Providers can be available when the patient needs support as it can be a good fit for patient engagement efforts, allowing the patient's healthcare team to be there and ready to offer support - at the right times," said Shripal Shah, Senior Technology officer, iPatientCare.
About iPatientCare:
iPatientCare, Inc. is a privately held medical informatics company based at Woodbridge, New Jersey. The company is known for its pioneering contribution to mHealth and Cloud based unified product suite that include Electronic Health/Medical Record and integrated Practice Management/Billing System, Patient Portal/PHR, Health Information Exchange (HIE), and mobile point-of-care solutions that serve the ambulatory, acute/sub acute, emergency and home health market segments.
iPatientCare EHR 2014 (2.0) has received 2014 Edition Ambulatory Complete EHR certification by ICSA Labs, an Office of the National Coordinator-Authorized Certification Body (ONC-ACB), in accordance with the applicable eligible professional certification criteria adopted by the Secretary of Health and Human Services (HHS).
Full certification details can be found at ONC Certified Health IT Product List.
The ONC 2014 Edition criteria support both Stage 1 and 2 Meaningful Use measures required to qualify eligible providers and hospitals for funding under the American Recovery and Reinvestment Act (ARRA).
The company has won numerous awards for its EHR technology and is recognized as an innovator in the field, being a pioneer to offer an EHR technology on a handheld device, an innovative First Responder technology to the US Army for its Theatre Medical Information System, the first to offer a Cloud based EHR product. iPatientCare is recognized as one of the best EHR and Integrated PM System for small and medium sized physicians' offices; has been awarded most number of industry Awards; and has been recognized as a preferred/MU partner by numerous Regional Extension Centers (REC), hospitals/health systems, and academies.
Visit http://www.iPatientCare.com for more information.