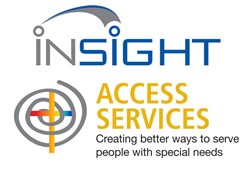 Mobile crisis intervention paired with telehealth is a more immediate support for people. It helps resolve the immediate crisis in many cases without unnecessary and costly hospitalization.
Fort Washington, PA (PRWEB) February 19, 2014
Montgomery County residents no longer have to leave their homes when they experience a psychiatric crisis. Instead, they can call Access Services—a nonprofit organization that specializes in improving quality of life for people with special needs. Their 24/7 Adult Mobile Crisis Program and 24/7 Children's Crisis Support Program now include in-home crisis management and assessment through a partnership with InSight, a national telepsychiatry provider company.
While the term "crisis" varies from person to person, a person experiencing psychiatric crisis may be involved in a personal or social situation that has broken down where mental distress is a significant contributing factor.
When a person in crisis calls the Access Services (Adult Mobile Crisis [1-855-634-HOPE] or The Children's Crisis Program [Montgomery Co. 1-888-435-7414 and Bucks Co. 1-877-435-7709]), trained crisis support workers are now able to come to the caller's home with a laptop equipped for telepsychiatry. The onsite crisis management team attempts to assuage the individual's or family's mental stress through talking, reasoning and empathizing. In addition to this in-person care, with Access Services' new telepsychiatry program, the consumer or family in crisis and the onsite team can also connect via televideo to a psychiatric provider for additional specialized care and treatment.
The program is the result of a yearlong collaboration between Access Services and InSight to develop a system of care that allows consumers in crisis to remain in their homes and their communities when dealing with new or ongoing psychiatric emergencies.
There is currently a national shortage of behavioral health care providers, particularly prescribers; 96 percent of counties in the United States have a shortage of psychiatric prescribers. This shortage is particularly challenging in rural areas like parts of Montgomery County. Clinical research studies show that telepsychiatry is an effective means of care supplementing in-person treatment, especially when psychiatric providers are scarce.
"By leveraging telemedicine we can optimize service capabilities to get more people the care they need," explains Dan Khebzou, the InSight Account Executive who worked closely with the Access Services team to develop the program.
Access Services' mobile telepsychiatry program reduces the time consumers spend awaiting care and lessens the strain on the psychiatric resources of area hospitals. When an individual has to wait for proper psychiatric treatment, there is an increased risk for self-harm and harm to others.
"Mobile crisis intervention paired with telehealth is a more immediate support for people. It helps resolve the immediate crisis in many cases without unnecessary and costly hospitalization," says Brenda Boorse, Regional Vice President of the Delaware Valley Region for Access Services. "Conducting evaluations in a person's home where they are in a familiar environment allows a more thorough evaluation of that person's living situation—and ultimately better care."
Access Services was drawn to InSight because of their 24/7-crisis telepsychiatry coverage. "This program is the first of its kind," says InSight Executive Director Geoffrey Boyce, "We are enthusiastic about future possibilities for this model of care."
While InSight typically serves facilities like hospitals and community mental health centers, Access Services' leadership realized that same model could be brought into their consumers' homes. The groups worked together to adapt their existing models of care into a program that offers fast access to psychiatric care and a wide array of resources for stability and wellness.
That rapid, mobile connection to quality care allows for a greater sense of empowerment for consumers. This is in line with Access Services' mission to empower and serve people in need of specialized support by providing services that improve their ability to live fulfilling lives within their communities.
Adult Mobile Crisis Program Director, Jessica Fenchel says that Access Services crisis support is a recovery-oriented program focused on offering consumers choice in their care. "Rather than coming in and taking over their crisis scenario by sending them to a hospital far away from the rest of their lives, telepsychiatry allows consumers to remain in charge of their own lives, even during tough times."