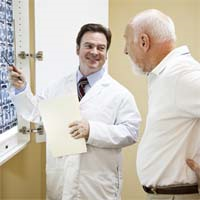 Single-modality therapy does not have a major impact on long-term survival...
Raleigh, NC (PRWEB) February 27, 2014
Cancer researchers at Belgium's Antwerp University Hospital say emerging mesothelioma treatments like hyperthermic intrapleural chemotherapy, immunotherapy, and photodynamic therapy are likely to transform multi-modal treatment of the cancer. As Surviving Mesothelioma reports, the team's newly- published article in the European Respiratory Journal details some of the approaches they believe are most likely to have a survival impact in mesothelioma patients.
Malignant pleural mesothelioma, an aggressive cancer that attacks the pleural membrane around the lungs, is primarily caused by asbestos exposure. Because of its resistance to conventional cancer treatments, doctors typically utilize a combination of approaches, also known as "multi-modality treatment". Exactly which combination is most effective against mesothelioma is still being debated. As the new article notes, "Single-modality therapy does not have a major impact on long-term survival and combined-modality therapies are being further evaluated."
Although they expect chemotherapy, radiotherapy and surgery to continue to play a role in mesothelioma treatment of the future, the authors also expect clinicians to gradually begin using newer treatments – or use existing treatments in new ways – as studies on their safety and efficacy become available. An example is the emerging use of radiotherapy after surgery as a way to prevent new mesothelioma tumors. This application of radiotherapy is still being evaluated.
Also under investigation is hyperthermic intrapleural chemotherapy, a method for rinsing the open chest cavity with a solution of heated chemotherapy drugs immediately after surgery. A similar approach has been shown to improve survival among patients with peritoneal (abdominal) mesothelioma. Immunotherapy and gene therapy, which involve manipulating the immune system or genetic material in order to fight mesothelioma from the inside, are also the subjects of a number of ongoing clinical trials.
Photodynamic therapy, another potential mesothelioma treatment approach mentioned in the article, aims to kill mesothelioma cells with light by first treating them with a photosensitizing drug. While these approaches are being explored, as yet there have been no randomized studies comparing the effectiveness of these newer mesothelioma treatments.
The new article appears in the European Respiratory Journal. (Van Schil, PE, et al, "Multimodal management of malignant pleural mesothelioma: Where are we today?", February 13, 2014, European Respiratory Journal, Epub ahead of print, http://www.ncbi.nlm.nih.gov/pubmed/24525443)
For nearly ten years, Surviving Mesothelioma has brought readers the most important and ground-breaking news on the causes, diagnosis and treatment of mesothelioma. All Surviving Mesothelioma news is gathered and reported directly from the peer-reviewed medical literature. Written for patients and their loved ones, Surviving Mesothelioma news helps families make more informed decisions.