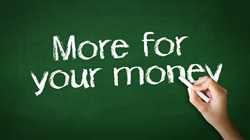 For less than the Infusionsoft price, GetUSales offers full Infusionsoft setup, implementation, training, and complete email marketing content packages.
(PRWEB) March 03, 2014
For less than the software-only Infusionsoft price charged by most companies, GetUSales now offers full Infusionsoft setup and a complete set of industry-specific email content for the Infusionsoft program. With GetUSales, there's no reason to spend hours upon hours creating email marketing campaigns. GetUSales sells Infusionsoft software, training and content at less than the software-only Infusionsoft price that other companies charge.
GetUSales' Infusionsoft packages offer more for less than the software-only Infusionsoft price chaged by most companies.
GetUSales offers Infusionsoft setup and complete Infusionsoft content packages for businesses in four industries for less than Infusionsoft's $1999 setup fee. These complete packages of Infusionsoft content are crafted by expert marketers and top-notch copywriters to do one thing – drive more business through the door.
More than just the typical sales emails, Infusionsoft content from GetUSales is built to be educational – giving readers information they actually need and want to read. By giving readers information they can actually use, these emails will be looked forward to rather than instantly moved to the trash folder, as so many sales emails are.
GetUSales does it all for you.
GetUSales' Infusionsoft content packages come with:

Multiple industry-specific email marketing campaigns designed to target each particular market
Infusionsoft setup
Full implementation of email marketing campaigns
Two, one-hour training sessions to help business owners master their Infusionsoft software
GetUSales offers ready-made Infusionsoft content packages for four industries – only $1997.
In addition to creating custom email marketing campaigns for its clients, GetUSales has strategically designed ready-made, turnkey content packages for the following industries. Each package comes with a set of Infusionsoft campaigns that are designed to educate readers, build brand loyalty and increase name recognition.
Real Estate – 9 campaigns: General Listing, Z-Buyer, COI/Past Client, Short Sale, General Buyer, RentBO, FSBO, Expired Listing, and Dave Ramsey
Chiropractic – 8 Campaigns: New Patient WOW, Newsletter Campaign, 1st Visit WOW, 5-Part Sales Funnel, End-of-Year Deductible, Existing Patients, and Holiday
Dentist – 8 Campaigns: 11 Secrets to Raising Cavity-Free Children, 9 Critical Secrets of Dental Implants, End-of-Year Deductible, Refer a Friend, Holiday, The Miracle of Dental Implants, Existing Patient WOW, and Call-In Lead Forms
Wedding Coordinator – 6 Campaigns: New Lead/Expressed Interest, Appointment Follow-Up, Contract Follow-Up, Wedding Survey and Testimonial Request, Special Announcements/Anniversary, and Refer A Friend
Get started with Infusionsoft campaigns today.
Why wait? GetUSales can get any business on the road to email marketing success today! Call GetUSales today at 855-834-4850 or visit http://www.getusales.com.