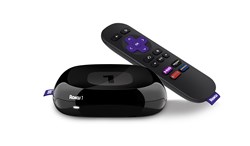 With added new technologies like Roku, we're now reaching 262 million connected homes, a potential audience of 951 million people in some 200 nations. - GOD TV CEO Rory Alec
Plymouth, England (PRWEB) February 21, 2014
GOD TV is available throughout the USA via satellite and on cable stations in some cities, however many viewers are experiencing the benefit of watching GOD TV's web stream on their TV screen through a simple $50 device. Roku also now enables viewers to access a selection of GOD TV's latest videos on demand, including the most popular.
GOD TV airs a unique selection of programming, broadcast Free To Air (FTA) via satellite and also has a high quality webstream. Its 24-hour schedule includes Bible teaching; youth rallies; music concerts and exclusive events. GOD TV founders Rory and Wendy Alec are also often featured, hosting their regular 'Behind the Screens' series or hosting extended LIVE broadcasts. The daily schedule lists speakers such as Joyce Meyer, Creflo Dollar, Joseph Prince, Andrew Wommack, Benny Hinn and Kenneth Copeland.
The network's most popular videos on demand include an introduction to Christianity through The Alpha Course; worship concerts like the Big Church Day Out; youth programming such as Soul Survivor; miracle events like the Healing Awakening; fascinating End Time insights from the International Prophetic Conference; and GOD TV Israel Tour special events and other key conferences.
GOD TV offers much original programming produced in the USA and other regions. GOD TV's Executive Producer, Wendy Alec has won several awards from the Christian Broadcasting Council of the UK, including Best LIVE event and Best Youth series.
GOD TV also features churches from across the USA such as the International House of Prayer in Kansas City (IHOP-KC) and Pastor John Hagee of Cornerstone Church in San Antonio, Texas. The network's youth programing includes concerts with the latest emerging youth bands and dynamic events like Teen Mania's BattleCry featuring Ron Luce, The Ramp with Karen Wheaton and Liberty Winterfest, amongst many others.
"In addition to our on air broadcasts, we aim to provide high quality live streams to make GOD TV's programming accessible across different platforms," said GOD TV CEO, Rory Alec. "With added new technologies like Roku, we're now reaching 262 million connected homes, a potential audience of 951 million people in some 200 nations."
"Roku is a market leader in streaming entertainment for television, providing devices that are renowned for their simplicity and variety of programming," said GOD TV Director of Television, Wendy Alec. "We're pleased that so many new viewers are discovering our unique schedule via new technologies such as Roku and others."
Roku connects easily to any TV set through a wireless network without the need for a PC and can be purchased throughout the USA. It is becoming increasingly popular because in addition to over 1,000 channels, it enables viewers to access films, music; and games. About the size of a saucer, it is the smallest streaming player to date and uses 2 watts to stream a film, less than a light bulb. See roku.com for details.
GOD TV can also be watched throughout the USA on channel 368 of DIRECTV and channel 103 of Glorystar as well as on cable in some cities. A GOD TV App is available on iTunes.
Prepared by GOD TV Communications Officer, Al Gibson.
About GOD TV: GOD TV was founded in the UK in 1995 by media entrepreneurs, Rory and Wendy Alec and has since grown into a global network. GOD TV is owned by several Angel Charities internationally, including the Angel Christian Television Trust Inc., a US not-for-profit corporation. GOD TV adheres to the Evangelical Alliance Basis of Faith and transmits worldwide from Jerusalem providing free viewing to a potential viewership of 951 million people. The network has offices internationally including in Kansas City Missouri and Orlando, Florida. In addition to its extensive media outreach, GOD TV helps people in charitable ways, supporting orphanages, feeding programmes and life-giving water projects.