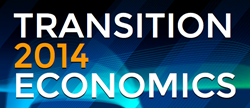 St. Louis, MO (PRWEB) February 20, 2014
Some of the greatest minds in economic growth will gather in St. Louis in May for the 3-day inaugural Transition Economics conference. Capped at 150 attendees, the intimate conference will bring together global experts in a variety of fields with entrepreneurs and government officials to share solutions, strategies and emerging best practices for growth in the modern economy.
"2006 is not coming back," says Transition Economics executive director Eric Garland, a future trend expert and author who consults to cities, regions and nations about how to guide their economies in times of transition, from the State of New York to the Principality of Monaco. "There is something more complex, more prosperous, and more durable emerging, and it's being led by people who are not necessarily connected to the large cities and institutions we're used to turning to. I felt a need to gather these minds together. I call it an intellectual jam session."
A portion of proceeds from the Transition Economics 2014 will go directly to the St. Louis-based and globally recognized organization Arch Grants. "Arch Grants' mission is to accelerate economic development in St. Louis by investing in local entrepreneurs," says Arch Grants executive director Ginger Imster. "We're excited to partner with Transition Economics because of our shared commitment to support St. Louis' entrepreneurial culture. We are thrilled that a portion of ticket sales will go directly to Arch Grants through our collaboration with Transition Economics." Says Garland, "It makes perfect sense that the conference should in some way support the Arch Grants mission of cultivating the next generation of local St. Louis businesses. They are part of what makes St. Louis the perfect city in which to launch Transition Economics."
The conference will be held May 19th through 21st at the Moonrise Hotel and Regional Arts Commission. The early registration fee is $595 until March 15th. Some sponsorship packages are still available. Visit http://www.transitioneconomics.net to learn more about the conference, why St. Louis was chosen as the location and to see a full list of speakers.
About Transition Economics
Transition Economics is an independent conference gathering experts and leaders to share and connect around opportunities and strategies for growth in the new economy. The conference leverages intimacy (150 attendee cap) to foster connections, accessibility and the in depth exchange of ideas. Attendees and speakers come from industries ranging from energy to the arts and represent local, national and global economies and communities. The broad reach of the conference attendees magnifies the experience beyond the conference through video, audio and social platforms. Transition Economics 2014 will take place in St. Louis, Missouri and a portion of the proceeds will go to conference partner Arch Grants to assist their mission of cultivating the next generation of local St. Louis businesses.
About Eric Garland
Eric Garland is a future trend analyst, author, educator and keynote speaker, providing insight to executives around the world. His clients over the last two decades include: AT&T, IBM, GM, Ford, Dow, Dupont, Siemens, Energizer, Eli Lilly, Toshiba, Cummins Diesel, the Environmental Protection Agency, the national government of France, the Prince of Monaco, and many more. His work is featured in many of the world's largest media outlets, including Harvard Business Review, Al Jazeera, The Atlantic, Huffington Post, and others. He resides in St. Louis, his wife's hometown.
About Arch Grants
Arch Grants is a registered 501(c)(3) nonprofit organization with an aim to advance economic development in St. Louis through entrepreneurship. Their mission is to create an entrepreneurial culture and infrastructure to build successful companies in St. Louis. In just two years, Arch Grants has given $1.95 million to 35 startup businesses, who have in turn created over 140 jobs in the St. Louis area, raised over $10 million in follow-on capital, and generated over $4 million in revenue.