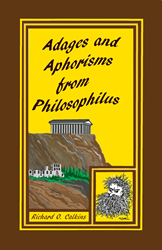 Over the vast panorama of history, human nature has proven to be remarkably resistant to change. This can be deeply distressing when dwelt upon. - Philosophilus
Sammamish, WA (PRWEB) February 25, 2014
"Adages and Aphorisms from Philosophilus," contains timeless—and often humorous— wisdom from Philosophilus, a fictional Athenian philosopher and curmudgeon. The book offers pithy words of wisdom from the curmudgeonly Greek philosopher who is channeled by Richard Calkins, and reads as though it came directly from a skeptical Athenian philosopher, evaluating modern and classical phenomena.
Often amusing and always insightful, these adages will keep readers thinking long after they've closed the book. Philsophilus' topics range from human nature to politics, gastronomy, medicine, commerce, and even cosmology. The collection also contains a number of clever illustrations, all drawn by Calkins.
According to Calkins, the book "is part of the human condition that everything we know is hostage to our assumptions. Some of our assumptions are explicit. We have the opportunity to assess their validity and correct them. Others are implicit. They not only are unknown but remain unexamined. To open our minds and broaden our perspective, we occasionally must excavate all of our assumptions and give them a good dose of sunlight and fresh air. It also wouldn't hurt to shake them up a bit with a good swift kick."
This is Calkins' second published book. His first book, "Relativity Revisited," reviews Einstein's theories of relativity, ultimately proving that both theories of relativity are invalid. Understandably, it is not popular in the scientific community. Calkins also has a third book "Oneliners" which is nearing publication. "Oneliners" will explain how the most basic language of art, the simple line, communicates with the human mind. It does this by demonstrating how a single unbroken line can identify objects, communicate actions and emotions and even can tell a story. It does this in a unique manner. Every illustration in the book, from simple examples to full landscape, still life and abstract drawings is drawn with a single, unbroken line which never crosses or even touches itself from beginning to end, hence the title "Oneliners".
Excerpts from "Relativity Revisited" and a gallery showing some of Calkins' drawings are available on the publisher's website http://www.calkinspublishing.com.
About Calkins Publishing Co. LLC:
The Calkins Publishing Company was formed to presents books that offer a different perception of things we take for granted. Its books will address different ways of interpreting what we have been taught about such subjects as art, science, philosophy, religion, government and the human condition. Not surprisingly, the company's publication trade name is A Different Perception.