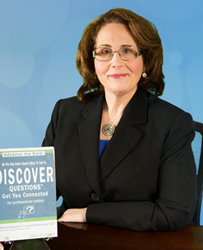 Asking questions reveals what a buyer values and to what degree.
San Jose, CA (PRWEB) February 21, 2014
Sales people around the world are unearthing the benefits of asking questions to improve sales. But there's plenty that entrepreneurs and start-up companies can learn from these sales techniques, and Deb Calvert is here to let small business owners in on the secret. Join Deb today on "Small Business Success" to hear an interview with show host Steve Strauss and find out what will make entrepreneurs stand out from the crowd.
Calvert is an expert in the field of sales and a small business owner herself. After many years as an HR and Training executive at a Fortune 500 company, she founded People First Productivity Solutions, a consulting firm in Morgan Hill, CA. Calvert's mission to "Build Organizational Strength by Putting People First" is what lead to the development of DISCOVER Questions™, an approach to identify the eight purposes for asking questions. Her book, "DISCOVER Questions™ Get You Connected," was a 2013 Top Sales & Marketing Book finalist and is sweeping the nation as the book that enables sales people to "be the ONE seller buyers actually want to talk to."
Calvert will share these methods and tips in this interview with Steve Strauss. Outlining the purposes for asking questions (and why small business owners should hone their questioning skills), she'll demonstrate how these techniques can build trust, create value and differentiate entrepreneurs from their competitors. She and Strauss will dig into how these sales techniques benefit small business owners and share the potential pitfalls and possible big payoffs this revolutionary new method creates.
Sponsored by Greatland, Small Business Success with Steve Strauss is a lively, weekly roundup of all things small business. From the "Startup Stories" that share the backstory of the early salad days before you ever heard of a big business — when it was still a small business — to interviews with the best business authors, great entrepreneurs, and the top experts, the show is a weekly quick look at everything listeners need to have their own Small Business Success.
Strauss is the country's "leading small business expert." Author of two books and a columnist for USA Today, he is also a regular contributor to SCORE, the Huffington Post, BizEngine, and many other outlets. His company, The Strauss Group, creates cutting-edge business content for everyone from Fortune 100 companies to small chambers of commerce.