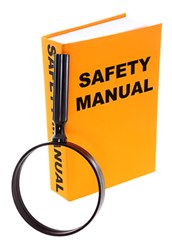 At the highest levels of organizations, leaders are proactively making safety initiatives part of their corporate culture. They recognize it's good for business.
Salt Lake City, UT (PRWEB) February 20, 2014
A recent article published by the National Safety Council should have families everywhere concerned about the safety of their loved ones. According to the article, "The ability of the federal government to create safer workplaces may be threatened. The recent automatic spending cuts known as sequestration reduced OSHA's budget by about 5 percent. Disagreements over how to fund the federal government have led to more than two years of no increased funding for the agency. And the federal government shutdown in October 2013 – also due to disagreements on funding – resulted in the majority of OSHA operations ceasing altogether for 16 days."
In the same article, Joe Van Houten, senior director of worldwide EHS at Johnson & Johnson in New Brunswick, NJ, confirms, "It's very difficult for an agency to plan a series of proactive, preventative activities when the funding for those activities could be discontinued at any time."
With such respected organizations raising concern over Federal cuts and the potential impact to workplace safety, many employers are asking what they can do to solidify the safe work environment that they have worked hard to establish.
Pat Cunningham, Director of Safety & Auditing Services at BROWZ, LLC, indicates that the adoption of Health and Safety practices at the corporate level has steadily increased over the last 25 years of his career. "It's a great trend," says Cunningham. "At the highest levels of organizations, leaders are proactively making safety initiatives part of their corporate culture. They recognize it's good for business and with contractor management solutions gaining in popularity, they can extend this culture to third-party contractors coming on site to work at their facilities."
Contractor safety programs have become an increasingly important focus as organizations outsource a greater number of work functions to third parties. CIO INSIGHT indicates that Q4 2013 outsourcing increased by as much as 13 percent. It's more important than ever that employers focus on properly managing the health and safety of their contractors.
When asked how employers can raise the bar on Contractor safety, Cunningham indicates there is always room for improvement. "One of the things we have always encouraged our clients to look at, particularly with high risk contractors and suppliers are safety program audits. For clients who manage high-risk onsite contractors and want to confirm these suppliers maintain adequate safety programs, BROWZ performs health and safety program audits. These assessments can be used to gauge the supplier's ability to work safely for the client, looking at the systems and culture of their safety program. The assessment score will show the depth of the supplier's safety program, and can be used as benchmark that can be compared and trended over subsequent assessments."
In order to address the unique challenges of high, medium, and low risk contractors, BROWZ offers both desktop and onsite auditing. "Safety program audits can be integrated with other related contractor information. All audits are conducted using rigorous standards including best practices, corporate requirements, and regulatory standards based on the country of operation, but perhaps most important is our expert's ability to assist contractors by educating them to our clients standards," said Cunningham.
BROWZ CEO, Elaine Beitler said, "Senior level executives everywhere are concerned about today's economy and the potential impacts of government spending, but we all should be concerned about what that means to safety. We are fortunate that the clients we work with are committed to safe work practices regardless of legislation and government practices, this is why we see the increasing demand for Safety Program Audits and we couldn't be more pleased to meet those requests."
Learn more about BROWZ Health & Safety Program and Manual Audits.
About BROWZ LLC:
BROWZ is the leading solution for comprehensive supply chain risk mitigation and contractor prequalification. Its fully configurable solution simplifies the exchange, verification, and maintenance of critical data between clients and their supply chain, while adapting to the client's unique business needs. Delivered as a software-as–a-service (SaaS) solution, BROWZ functions as a central, web-based data repository for all supply chain prequalification and compliance information, and is available 24/7 and in multiple languages anywhere around the world. Through a combination of compliance best practices, technology, and service, BROWZ addresses supply chain compliance needs related to insurance and risk, environmental health & safety, corporate social responsibility, financial stability, supplier demographics, employee level management, security, and much more. For more information, visit http://www.browz.com.