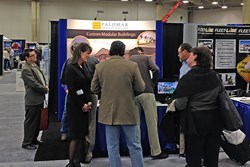 DeSoto, Texas (PRWEB) February 19, 2014
Palomar Modular Buildings will be exhibiting at the Texas Association of School Business Officials (TASBO) 68th Annual Conference. The Annual Conference is being held at the Austin Convention Center in Austin, Texas on February 25 from 3:00pm - 6:00pm and February 26 from 10:30am - 5:00pm. Palomar will have a trade show display exhibiting the company's education building solutions at booth 1013. The company provides a selection of buildings for the public and private education markets in Texas, including temporary or portable classrooms, and complete school campus complexes. The 2014 TASBO "Mission: Possible" Conference, expected to attract 2,700 school finance and operations professionals, will feature over 80 continuing education courses and 125 learning sessions.
About Palomar Modular Buildings
Palomar Modular Buildings manufactures advanced modular buildings for a range of industries including office, retail, healthcare, education and workforce housing. The company's state-of-the-art manufacturing facility in DeSoto, Texas, is staffed with a dedicated full-time workforce of skilled tradesmen and production managers has produced hundreds of modular projects from simple additions to complex new facilities.