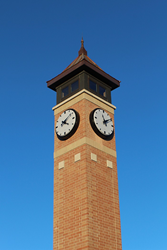 Considering the contact we've received from companies who are interested in space here, we regret not being able to provide more buildings to accommodate all of the attention this complex is already proving to generate.
Cedar Rapids, IA (PRWEB) March 13, 2014
The most recognizable and anchor feature, the Clock Tower, now stands proudly at the epicenter of the complex. The clock illuminates at dusk and acts almost as a lighthouse to draw attention to the development. This tower is already becoming a recognizable icon for the Fountains and everything it will offer.
The second retail building has signed additional tenants including Pepperjax Grill; 'home to America's best Philly', Olive's Oil; featuring gourmet cooking oils and supplies, Red Wing Shoes; now open and operational and State Farm Insurance will soon also be in residence.
These businesses join Salon Jude, Sanctuary Spa and Jimmy Johns already established in Retail Building 1 along the southern border of the complex.
According to developer Joe Ahmann, there are several interested parties in both large, end-cap spaces in the 1st and 2nd retail buildings that will soon house larger scale restaurants. These spaces also enjoy outdoor patio space overlooking the pond 'connecting' these buildings. The restaurants will provide wonderful opportunities to enjoy warmer weather and the entire complex, once opened. Unfortunately by the time of this release, leases have yet to be signed so the identities of who will occupy these spaces will have to remain anonymous for a while longer.
The larger Office Buildings are also receiving inquiry and evaluation by several companies considering a relocation of headquarters to this new and exciting development. The first of these three buildings is now framed, enclosed and quickly progressing. Foundation pours for the remaining two office buildings (which will complete the complex) are simply waiting for the cooperation of Mother Nature.
Everything remains on schedule for this development to make a strong and valuable contribution to the anxiously waiting Cedar Rapids community.
About Compass Commercial Services:
Compass Commercial Services is a full-service General Contracting and Construction Management firm in the Cedar Rapids area specializing in a wide range of commercial construction projects including interior and exterior renovations, remodeling, building additions and the complete construction of new buildings. As a TRUE design-build firm, Compass Commercial Services is poised to complete projects from the ground up. From the initial design through the entire building process, customers have the advantage of working directly with one company, and a team that is structured to deliver final projects on time, and on budget.