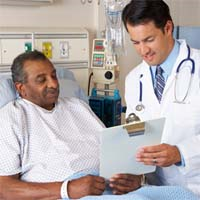 The most common comorbidities in the readmitted patients included hypertension, diabetes and smoking.
Raleigh, NC (PRWEB) February 23, 2014
According to new research published in the Journal of Urology and reported by Cancer Monthly, diabetic patients do not typically recover as well after urological operations like bladder cancer surgery, and develop more complications, than do non-diabetic patients.
The study evaluated the 30-day unplanned readmission rates of 7,795 patients listed in the National Surgical Quality Improvement Program database. All patients had their surgeries in 2011. The researchers calculated the readmission rates for the 5 most common urological procedures and the likelihood of the postoperative complications that necessitated the readmissions.
Cystourethroscopy, a procedure for looking at the inside of the bladder, and resection of bladder tumors were the most common of the 5 procedures studied. The remaining four were laser prostatectomy, excision of hydrocele and sling operations for urinary incontinence.
They found that having diabetes was one of the most common co-existing conditions in patients who developed post-surgical complications for which they had to return to the hospital. "The most common comorbidities in the readmitted patients included hypertension, diabetes and smoking," the team reports. Having a history of cancer or a bleeding disorder, being male, and being older were also significant predictors for readmission.
Overall, 3.7% of patients in the study had to be readmitted after urological surgery but those who had bladder surgery had a readmission rate of 4.97%. For bladder cancer patients who were also diabetic, the rate was even higher.
Diabetes patients have an elevated risk of bladder cancer, which has been found to occur even more frequently in diabetics who have been treated with the drug Actos. The authors, writing in the Journal of Urology, say they hope their results "may help guide risk reduction initiatives and prevent costly readmissions" for future surgery patients. (Rambachan, A, et al, "Predictors of Readmission following Outpatient Urological Surgery", Journal of Urology, February 8, 2014, Epub ahead of print. http://www.ncbi.nlm.nih.gov/pubmed/24518788)
For over ten years, Cancer Monthly has been the only centralized source of cancer treatment results. Patients can see the actual survival rate, quality-of-life indicators, and other key data for approximately 1,500 different cancer treatments. Cancer Monthly provides timely and ground-breaking news on the causes, diagnoses and treatments of the most common cancers including Bladder, Brain, Breast, Colon, Kidney (Renal), Liver, Lung (NSCLC), Ovarian, Prostate and Rectal Cancers, Melanoma, Mesothelioma, and Non-Hodgkin's Lymphoma. Written for patients and their loved ones, Cancer Monthly helps families make more informed treatment decisions.