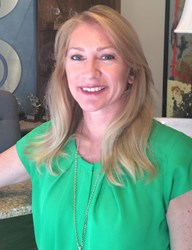 Kim is a talented designer and we are excited to have her own the team.
Winter Park, FL (PRWEB) February 21, 2014
Award winning design firm Beasley & Henley Interior Design is pleased to announce the appointment of Senior Interior Designer Kimberlee (Kim) Grimes to the Beasley & Henley design team.
Kim is a designer with 15 years of experience in creating interiors for builder models, private clients and commercial projects. She has won awards at the SEBC Aurora Awards and in the Parade of Homes. Educated in Interior Design and Graphic Design, Kim has a long track record of successful projects and happy clients.
"We are very pleased to have Kim on our design team," says Design Principal Troy Beasley. "Her design aesthetic, skills and easy going personality make her a great asset to our talented team,"
At Beasley & Henley, Kim will be responsible for model interior design and specifications on a range of projects. Prior to joining Beasley & Henley, Kim was with Marc-Michaels Interior Design and Masterpiece Interiors.
Beasley & Henley is looking forward to hiring several additional employees over the next few months as the market continues to expand.
---
Beasley & Henley Interior Design is a boutique design firm that believes in creating innovative and memorable interior spaces, uniquely suited to our client's needs and specific goals. As an industry leader, our team is composed of the best designers and staff, providing our clients with exceptional quality and exceeding their expectations. Please reach us at our Central Florida office at 407-629-7756, or at our Naples, FL office at 239-774-1005.