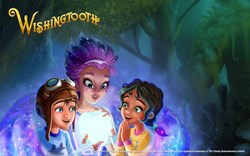 I think this will become a family tradition and be passed to kids and grandkids!
(PRWEB) February 21, 2014
National Tooth Fairy Day. Not even the most thorough Internet search can reveal its origins. The reason for the obscurity, says TRC Family Entertainment, is this little known fact: February 28, National Tooth Fairy Day, is actually the Tooth Fairy's birthday.
According to the Wishingtooth® legend introduced by TRC this year, the holiday is a remnant of an age-old tradition that few remember today: wishing upon each lost baby tooth. Tooth Fairy Day honors the day that the Tooth Fairy herself was born.
Now, the Wishingtooth legend is making its way into the homes of families who are joining the tradition of their child making a wish each time a tooth is lost. Said parents who have discovered Wishingtooth:
"I would love to be able to share this with my 7 year old who hasn't lost his first tooth yet. This seems like a way to make losing your first tooth exciting."
Along with revealing the secret behind National Tooth Fairy Day, Wishingtooth also reimagines the myth behind the Tooth Fairy herself — whose real name, the legend reveals, is Zora Swift.
Said Ashley Mansour, Head of Writing at TRC Family Entertainment, "The Tooth Fairy is a powerful figure for many children. She's present during the special growing-up moment when a child loses their tooth. Zora Swift is the essence of the inner spark of self-belief that's so precious during childhood. She opens us all to a world of possibility, where our wishes can become realities if we hold on to that spark and seek our dreams with courage, tenacity, kindness, and passion."
Families can enjoy the deeper meaning of the Tooth Fairy's birthday in many ways:
Download The Wishingtooth Storybook Adventure. The app is free for a limited time for iPad®, Android™, and Kindle Fire™.
Follow @ZoraSwift on Twitter for updates on what's in store for her birthday celebration.
Visit Wishingtooth.com to explore the legend, meet Zora Swift and friends, and see all that Wishingtooth has to offer.
About TRC Family Entertainment
TRC Family Entertainment is building a new global brand experience that brings families together. Rooted in great stories, the online entertainment and trans-media studio is creating new ways for families to connect, play and share across multiple forms of media. Founded in June 2011 on the Mediterranean island of Malta, TRC Family Entertainment brings together an award-winning team from some of the world's most successful entertainment and technology companies, including Sony Computer Entertainment Europe, Jetix Europe, KingsIsle Entertainment, CCP Games, Disney, DC Comics/Warner Brothers, Adobe, Cisco and Lionhead Studios.
For more information, please visit: http://www.trcmediagroup.com and http://www.Wishingtooth.com
Contact: Charlie Bates, Senior Marketing Manager
+1 (714) 941 0574 | +356 9937 5489 | charliebates(at)trcmediagroup(dot)com