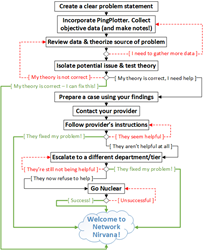 Boise, Idaho (PRWEB) February 21, 2014
PingPlotter.com has created the "Roadmap to Network Nirvana", an easy, concise (and possibly fun) guide on how to identify network issues, isolate the source of problems and effectively "communicate" with an internet service provider.
Slow network speeds, interrupted (buffering) video and dropped connections can be maddening. Pesky, intermittent and erratic connectivity problems are especially annoying. It often seems like there's no solution, and it's difficult to know where to look for answers. Don't concede defeat - network nirvana is within reach!
The roadmap helps solve one of the biggest problems in network troubleshooting: "Now What?" and provides the weapons (uh, tools) needed to get the job done. The combination guide and worksheet will walk spotty-internet victims through the steps required to research the problem, build a case to bring to their ISP, and then navigate their provider's support organization.
"We have learned that more often than not, people just don't know how to navigate to a solution," said Pete Ness, founder of PingPlotter.com. "We wanted to simplify the process of identifying and solving network connection problems ... and as crazy as it sounds, we wanted to have a little fun while we were at it."
The roadmap is designed to give users everything they need to see the network and pinpoint the problem. The guide and worksheet are available free from http://www.pingplotter.com/netnirvana.
Since 1998, Nessoft, LLC has been marketing productivity tools that make it easy to monitor and troubleshoot networks. The company offers PingPlotter, a popular and effective network troubleshooting tool offered in freeware, standard and professional editions. PingPlotter has been successfully employed by a wide range of users including casual surfers, hardcore gamers, chronic "out of thin air" World of Tanks spawnees, VoIP talkers, stock traders, internet rookies and serious IT pros.