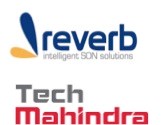 Reverb's SON solution will compliment Tech Mahindra's OPEX transformation strategies for large and complex networks and help operators leverage their existing assets while also deferring CAPEX for their future investments
Sterling, VA (PRWEB) February 20, 2014
Tech Mahindra and Reverb Networks are pleased to announce that they have entered into a teaming agreement where Tech Mahindra intends to use Reverb Networks' Self Optimizing Network (SON) solution to offer mobile operators managed services solutions which bring significant efficiency, customer experience improvements, and performance gains.
"We are extremely pleased to partner with Reverb – a forerunner in the field of RAN closed loop self-optimization. Through this partnership we are bringing an automated and cost-effective optimization solution that with minimum integration efforts can monitor and optimize RAN of a 2G/3G/4G network by leveraging the capabilities of operator's existing network and OSS infrastructure." said Mr. Balaji Ts, who heads Tech Mahindra's Transformation & Strategy Office of the Network Technologies Solutions & Services Competency Delivery Group.
"SON solution will compliment Tech Mahindra's OPEX transformation strategies for large and complex networks and help Operator's leverage their existing assets and also CAPEX deferment for their future investments," said Mr. Ayon Banerjee, Head of Network Technology Solutions and Service Business Unit of Tech Mahindra.
"This agreement confirms the value of Reverb's unique technology for automating network optimization which is the basis for our InteliSON platform. Our products ideally complement Tech Mahindra's converged IT and Network Technology Solutions offerings, as we continue to drive innovation in SON and deploy our leading edge solutions in 3G and 4G networks worldwide," commented Zoran Kehler, CEO of Reverb Networks.
Reverb Networks are a leading developer of automated, continuous and Intelligent SON solutions. Reverb Network's solutions are software-based, sophisticated, closed-loop, and fully network integrated, reducing OpEx and CapEx for wireless network operators through frequent and proactive self-optimization for coverage, capacity, and self-healing.
Tech Mahindra is a leading provider of solutions and services in the Information, Communications & Technology (ICT) industry serving over 500 global customers, including Fortune 500 companies. A USD 2.63 billion company with over 85,000 professionals, its proven global delivery models, distinctive IT skills and decades of domain expertise help CSPs realize their business aspirations.
Please visit Tech Mahindra's booth during Mobile World Congress in Barcelona (Hall 2, Stand 2Q8) or visit http://www.reverbnetworks and http://www.techmahindra.com for more information.