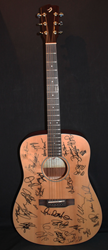 Abingdon, VA (PRWEB) February 20, 2014
The 2nd Annual January Jams at the Barter Theatre brought thousands of people to Abingdon in January from around the region, as well as several Grammy-award winning artists. The series included 7 total concerts, most coming close to or selling out the 500-seat theatre. Seizing an opportunity while having these nationally recognized musicians in town, Capo's Music Store teamed up with the Abingdon Music Experience to have a guitar signed by every performer to be raffled off on February 28, 2014. "We are thrilled to offer fans the chance to win an amazing piece of memorabilia," says Sara Cardinale, Special Events Coordinator for the Town of Abingdon.
The guitar is a Breedlove Passport D/SM guitar, which retails for over $500. Artists who signed the guitar include: Marty Stuart, Jim Lauderdale, John Cowan, Jason Isbell, Tim O'Brien, Darrell Scott, Mountain Heart, Iris Dement, Holly Williams, St. Paul & The Broken Bones and more. Raffle Tickets are only $1/ea, and are available at Capo's Music Store in Abingdon, as well as online at http://www.shopcaposmusicstore.com. Multiple tickets can be purchased to increase the chance of winning. A single winner will be chosen on February 28th at Capo's Music Store.
All proceeds from the raffle will go to support the Abingdon Music Experience. The Abingdon Music Experience is an effort of the ACVB which includes different concert series throughout the year. In addition to January Jams, the AME also puts on the Thursday Jams, an outdoor concert series in the summer at the Abingdon Market Pavilion. "The Thursday Jams are free to attend, and in order to keep high quality acts on stage, we need sponsorships to make it happen," explains Cardinale. "Thankfully we've had some corporate and business partners step up to help, but we are still looking for donors and thought the autographed guitar would be a good way to get the community involved and give back."
For a complete lineup of events, including details of the Abingdon Music Experience's summer concert series: Thursday Jams, visit http://www.abingdonmusicexperience.com. Sponsored in part by Eastman Credit Union and Capo's Music Store.