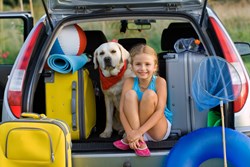 Most families prioritize the same things – safety, reliability, capacity and fuel-economy. But with the plethora of SUVs, minivans, and wagons available it can be difficult to know where to begin.
Sausalito, CA (PRWEB) February 21, 2014
Cartelligent has released its analysis of the pros and cons of various family vehicles. The service, based in Sausalito, California and with branches in East Bay, Silicon Valley and Orange County helps thousands of people purchase cars each year across all manufacturers. Its team of professional car buyers has put together a guide to help consumers weigh the decision between an SUV, minivan or wagon.
Whether the first little one is on the way or the house is already full, there comes a time to purchase a vehicle that will meet the family's changing needs. Most families prioritize the same things – safety, reliability, capacity and fuel-economy. But with the plethora of SUVs, minivans, and wagons available it can be difficult to know where to begin.
The car buying experts at Cartelligent have compiled a list of questions consumers can ask themselves in order to determine which of these may be a good option. In considering the pros and cons of each vehicle type, consumers should consider not only their needs at the moment but how their family may be changing over the time they own the car.
Is having a top-rated safety pick important?
Safety is a universal top priority among car manufacturers, but many families want the added security of choosing a top-rated vehicle for safety. The Insurance Institute for Highway Safety (IIHS) evaluates vehicles based on crash-worthiness and crash avoidance/ mitigation.
Will the vehicle often carry more than four passengers at a time?
If carpools, sports teams or large groups of friends are in their future, consumers may want to consider a vehicle with three rows of seating. While minivans are the obvious choice, many mid-size and larger SUVs have an optional third row and can comfortably seat up to eight.
Will the vehicle be used for family road trips regularly?
Road trips require a combination of comfortable seating and cargo capacity for luggage and other gear. Minivans and larger SUVs can be the best choice for both and often can be equipped with rear entertainment options to make the trip more enjoyable.
Is extra cargo space needed for dogs, bikes, etc?
If the consumer is looking for additional cargo space, but don't feel they need a third row they may want to think about a mid-sized SUV or wagon. Many wagons actually have more cubic feet of storage area than a small SUV. Consumer Reports has a list of family vehicles with cargo capacity and fuel economy.
Will you be driving the vehicle in winter conditions?
Ski trips to Tahoe and other winter destinations can be a primary motivation for choosing a larger vehicle. Features like AWD and traction control can make driving in snow much safer.
How important are handling and performance?
Larger SUVs and minivans can feel sizable while driving them and can be somewhat slower to accelerate. The new performance SUV class offers the handling of a sports sedan with the required cargo capacity a family needs.
Do you often park in the city or in lots with tight spaces? Larger SUVs and minivans can be difficult to park, especially in tight urban spaces. Available parking assist can be a lifesaver in tight spaces, but it might also be beneficial to consider a vehicle with a smaller overall footprint.
Is fuel economy a top priority for you? Diesel engines are becoming more common in SUVs and provide greater efficiency. There are also a number of hybrid options that offset the higher weight and less aerodynamic shape of SUVs. Fueleconomy.gov allows you to compare the fuel efficiency of various vehicles and estimate the annual cost for each.
Once a decision has been made on vehicle type, some other considerations to keep in mind include:

Cleaning: Leather or leatherette interiors can be considerably easier to clean than cloth seats when the inevitable spills occur.
Rear entertainment systems: Having a DVD player in the back or a WiFi hotspot in the car can be a life-saver on long drives.
Back-up cameras: These can make driving a larger vehicle much safer and more comfortable.
Interior capacity: If the family already had a car-seat and a stroller it can be a good idea take them to the test drive and make sure they fit into the vehicle.
SUVs, Minivans and sport wagons can be a great choice for a number of reasons, but the wide variety of options available can be confusing and time consuming to decipher. This guide is intended to help consumers clarify their thinking and decide which features they need in their family vehicle.
We welcome inquiries about these tips or about car buying in general. To set up an interview with one of our experts, please contact Jessica Carstens at 415-339-4562 or email jcarstens(at)cartelligent(dot)com.
About Cartelligent: For over thirteen years, Cartelligent has connected car buyers with the new car they want, at the right price. Thousands of satisfied clients have saved time and money while avoiding the hassle of the traditional dealer experience by working with Cartelligent to help them enjoy the car buying experience like never before.