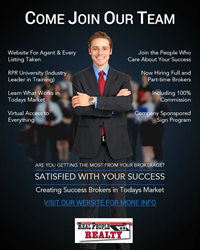 There are no others like Real People Realty. They offer you professionalism, support, while staying abreast of our ever changing profession...Jocelyn L. Johnson, RPR Agent
(PRWEB) February 26, 2014
Following record-setting growth in 2013, Real People Realty today announced they are hiring real estate brokers for the entire Chicago area to continue their expansion this year. Real People Realty promotes growth through an emphasis on a broker-friendly environment, and will further expand its team through this model.
With this announcement, Real People Realty reaffirmed their commitment to their real estate brokers and shared their model for promoting business and market growth since the 2008 economic downturn. Through their low-cost 100% commission model, Real People Realty provides their agents the opportunity for unlimited growth and the incentive to succeed in the future.
Since the 2008 economic downturn, the majority of the real estate industry has been exiting the market, scaling back operations, or raising costs on brokers to stay afloat. In contrast, 2013 was an extremely successful year for Real People Realty. Revenues for Real People Realty's brokers grew more than 56% last year, an in-house record, and the agency did not have to compromise their commitment to their brokers to accomplish this growth.
Rather than cutting broker commissions and resources to slash costs, Real People Realty reaffirmed their guiding mission, and continued to provide a 100% commission plan to their brokers. In addition, they provided training on industry topics, sales techniques, and market developments to grow their brokers' expertise and increase sales in a tough market. Real People Realty is also committed to supplying the very best technology, sales offerings, and marketing tools to their brokers.
In 2014, Real People Realty intends to continue their record of encouraging broker success through low cost commission plans and increased technology capabilities. The real estate company is now hiring licensed real estate brokers for the entire Chicago area. Real People Realty plans to further grow by adding more service driven, highly qualified real estate brokers to their team.
"We committed to creating successful brokers in 2013, and our brokers came through with a record setting year," said Tim Ryan, Managing Broker and CEO at Real People Realty. "For 2014, we are continuing on our path to success by focusing on the best interests of our brokers."
About Real People Realty
Real People Realty focuses on buying, selling, and renting homes across the Chicago metropolitan area. Chicago and its suburbs are unique, built from communities and neighborhoods with strong identities. With that in mind, Real People Realty specializes in local markets, and experiences success through professional service, a sense of urgency, and a concrete marketing plan for today's challenging markets.
Real People Realty values accountability, transparency, diversity and results. Through excellent customer service and a commitment to the success of its brokers, Real People Realty delivers a quality experience in every transaction.
Brokers interested in opportunities with Real People Realty should visit http://JoinRPR.com