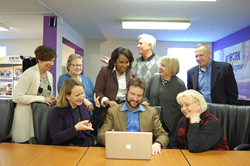 "The best organizations have a defined mission and purpose," said Proudfit. "They connect to consumers and customers by exhibiting that commitment through positive customer service and ethical corporate cultures."
Cincinnati, OH (PRWEB) February 25, 2014
During the recession, SkillSource Business Builders®, a Cincinnati-based business consultancy, practiced what it preached to clients.
It expanded its business model, added services to help clients improve corporate cultures and build leaders-- and saw revenue increase by 53 percent over 2012.
That's in addition to 50 percent revenue growth in 2011.
"We have changed our business model to allow for six employees," said Chuck Proudfit, SkillSource founder and president. "But with the addition of employees comes increased overhead. So while we have grown topline sales dramatically and have been able to invest profits in the marketplace as philanthropic investments, we still need to grow the business."
SkillSource, with offices in Mason and Blue Ash, Ohio, has focused since 2008 on increasing services to help businesses build productivity within their organizations.
"During the recession, many companies downsized or didn't replace workers who left, which meant people were charged with accomplishing more with less," said Proudfit. "We believe the best way for clients to increase productivity is to help them develop leaders within the organization and improve their corporate cultures."
SkillSource acquired Perfect 10 Corporate Cultures, headed by corporate culture expert Lynne Ruhl, in 2012. Ruhl is best known for the 18 years she spent training, mentoring and coaching athletes and staff at Cincinnati Gymnastics Academy in relationship and quality-of-life skills. She worked on mental training with some of the finest athletes in gymnastics, including 1996 Olympic Gold Medalists Amanda Borden, Jaycie Phelps and three-time World Champion and 1992 Olympian Kim Zmeskal.
One of her roles was executive coach for Cincinnati Gymnastics Academy owner and two-time Olympic coach Mary Lee Tracy.
She now offers Perfect 10 programs through SkillSource. Perfect 10 helps companies nationwide assess, improve and certify positive organizational corporation cultures.
Other SkillSource employees include Melinda Rea, marketing; Marcene Nichols, business building and marketing; D. Michelle Thompson, consultant for the Purpose Powered program, culture and leadership work; and Laura Jackson, business development. SkillSource continues to use independent, outside contractors to assist in select client projects.
Bob Pautke, president of SOAR with Purpose, a strength-based performance enterprise; and Karin Maney of Perfect 10 Corporate Cultures have been added as SkillSource contractors.
"We determined that the best way to continue growth at SkillSource is to create a cohesive mix of employees and contractors to create a team individually suited to each client," said Proudfit.
SkillSource helps small and medium-sized businesses develop and implement strategies and tactics to improve marketing; develop leaders; improve corporate cultures; and define a compelling purpose for organizations and people within them. It continues to have dozens of other contractors on call to assemble for specific client needs.
Its marketing division helps clients with scalable, affordable marketing projects. The business consultancy has served more than 450 clients since 1995.
"The best organizations have a defined mission and purpose," said Proudfit. "They connect to consumers and customers by exhibiting that commitment through positive customer service and ethical corporate cultures."
SkillSource was a 2010 Cincy Magazine Tristate Success Awards winner; a 2013 Perfect 10 Certified Corporate Culture award; and is a 2014 Venue Magazine C-Suite award winner for leadership in 2014.
For more information about SkillSource, go to http://www.skillsource.com or call (800) 513-9580.
# # #
Contact:
Laura Jackson
Business Development
Email: ljackson(at)skillsource(dot)com
Phone: (800) 513.9580
SkillSource Business Builders helps small and medium-sized businesses build, develop and implement strategies and tactics to improve marketing; develop leaders; improve corporate cultures; and define a compelling purpose for organizations and the people within them.