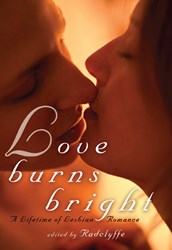 (PRWEB) February 20, 2014
Lambda Literary, the leading reviewer of LGBT titles, featured Love Burns Bright: A Lifetime of Lesbian Romance, edited by Radclyffe. The article began with, "Many of us grew up with stories which ended with the words, 'and they lived happily ever after.' We never knew the rest of the story… how they managed to live happily ever after. Love Burns Bright is a compilation of short stories which tell the rest of the story."
While the main focus of the collection is romance, it is particularly about women in long-term relationships with other women. As Lambda reminds the reader, "In these well-written stories, readers are treated to mature couples who have made their unions work. As more and more states recognize gay marriages, books that support and celebrate successful relationships are important to couples who are together for the long haul."
What people are saying about Love Burns Bright:
"Eminent lesbian romance author and editor Radclyffe curates a hot yet heartwarming collection of romantic and erotic scenarios focused on longtime lesbian couples, still in love and enjoying the kind of intimacy that comes from deep awareness of a partner's responses."
—Publishers Weekly
"Well-written, diverse, romantic and sexy, Love Burns Bright will heat up your winter."
—She Magazine
"The stories here have stood the test of time."
—Reviews by Amos Lassen