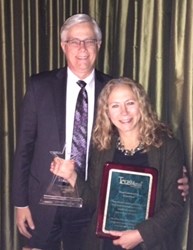 Austin, TX (PRWEB) February 20, 2014
Gina O'Hara of Anco Insurance Managers, Inc. was recently honored as the 2013 Texas Mutual Insurance Company Safety Group Marketer of the Year.
The award was given to recognize Gina's efforts on behalf of the Texas Construction Association Workers' Compensation Safety Group. Gina created and oversees this program, which is currently celebrating 10 successful years in operation. The TCA WC Safety Group provides industry-specific safety resources, along with discounts and potential dividends for all types of subcontractors. Gina's tireless work and innovative marketing strategies are the first steps toward making sure employers choose the right coverage to protect their employees.
This is the second year in a row that Gina has been given this prestigious award, which is presented annually by Texas Mutual Insurance Company to the agent who best exemplifies outstanding Safety Group marketing. Texas Mutual is the state's leading provider of workers' compensation insurance, with headquarters in Austin, Texas.
Gina works out of the Anco Insurance office in Austin, Texas and has been with Anco since 1999. Anco also has locations in Bryan, Houston, Livingston and Mart, Texas. Anco Insurance Managers, Inc. is a full-service independent insurance agency, founded in 1873 in Bryan, Texas.