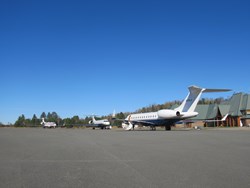 "It's Truly International"
Mont-Tremblant, Canada (PRWEB) February 20, 2014
Mont-Tremblant is currently a hot property market. Affluent visitors from near and far are opting not only to spend a weekend in the stunning Quebec region, but, increasingly, an entire winter or summer season. And as more and more people discover the area's divine natural beauty, Mont-Tremblant is fast becoming the place to invest in a vacation or retirement property.
Despite its long-held reputation as a winter ski destination, Herbert Ratsch argues that Mont Tremblant is the only resort in northeastern America that is as active in the summer as it is in winter – a sentiment shared by Marsha Hanna. "We have world-class golf, hunting and fishing in the summer," she explains. "There are music festivals too, and next year we'll be hosting the world finals of the Half Iron Man, so it's becoming very well-known worldwide."
"It's a year-round playground," she adds. "We have very little downtime."
Marsha explains that some people are choosing to retire in the area because, as well as the clean air and healthy lifestyle, the extensive range of activities available is ideal for families.
There is also the cosmopolitan flavor brought in by the tourists. "It's truly international," says Marsha. "When I brought my kids up here, it was interesting as they'd meet people on chairlifts from around the world. And there's always a change, with new tourists coming in."
Herb believes that Mont-Tremblant has it all – "most places are ski resorts or lake resorts... but Tremblant is a ski resort with a 12-kilometer lake right at its base" – but just in case you do want to leave, Marsha argues the area's transport links are second-to-none. "One of the key things about this resort area is that it's incredibly easy to get to and from – that makes it different to Aspen, Telluride or Lake Tahoe," she says. "You're an hour and ten minutes from Montreal, so you can get in and out of the city, and anywhere else in the world, very easily."
"There's also Mont Tremblant International airport, about 35 minutes from the town. Planes come in from Toronto and New York, and also there's a base for private planes.
Tourist attractions, desirable properties, transport and community; just some of the reasons why Mont-Tremblant is likely to be popular with visitors and homebuyers for years to come.
The full interview appears in the Jan/Feb issue of Private Air Luxury Homes Magazine.