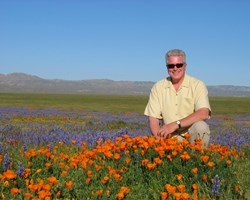 'Huell wanted to create a legacy that will make an impact on the lives of students far into the future.' - Chapman University President Jim Doti.
Orange, CA (PRWEB) February 21, 2014
The joy that the late TV legend Huell Howser shared with generations of Californians infuses a new permanent exhibit, "That's Amazing! Thirty Years of Huell Howser and California's Gold," sponsored by the Automobile Club of Southern California and housed in Chapman University's Leatherby Libraries. The public is invited to an open house launching the new exhibit on Saturday, March 29 on the Chapman campus in Orange, from 9 a.m. to 6 p.m.
The event will also mark the world premiere of a new documentary film, also sponsored by the Auto Club: "A Golden State of Mind: The Storytelling Genius of Huell Howser," created by Chapman film professor Jeff Swimmer, which will be screened four times in Chapman's Memorial Hall during the open house event.
Admission is free to the exhibit and open house. The film screenings are ticketed: $12 online in advance and $15 at the door. Auto Club members will receive a discounted film ticket price of $10. Screening times are 10 a.m., noon, 2 p.m. and 4 p.m. To purchase film tickets in advance, please visit http://www.huellhowserarchives.com. For questions regarding film ticket sales, the public can call (714) 744-2176. Campus parking information: http://www.chapman.edu/about/_files/visitor-parking.pdf.
The open house will feature:

Personal appearances by some of the favorite people showcased on Huell's shows.
Food vendors featured on memorable episodes of the shows.
The release of the Auto Club's new "California's Gold" tour map – a wonderful new map of the Golden State that marks the locations where many favorite episodes of Huell's shows, including the Auto Club-sponsored "Road Trip," were filmed. The Auto Club will be on site to hand out maps while supplies last.
Tours of the exhibit, which features a replica of Huell's office, a quote wall, career artifacts, pieces from his eclectic personal art collection, and fan gifts from his travels throughout California.
The world premiere of the new documentary "A Golden State of Mind: The Storytelling Genius of Huell Howser" by Chapman film professor Jeff Swimmer. The film takes you on a behind-the-scenes tour of the amazing world of Huell and his "California's Gold" and "Road Trip" series. Enjoy seeing how the series were shot and edited, with appearances by Huell's friends, colleagues and the production team that helped him create his offbeat and unforgettable adventures. (Proceeds from film ticket sales help to support the Huell Howser Archives and Collection and the permanent exhibit.)
In last several years of his life (he passed away in early 2013), Huell Howser forged a strong personal bond with Chapman University and its students. He "discovered" the university when Chapman President Jim Doti sent him a handwritten note inviting him to tour the campus, and later made many generous donations to Chapman, including his personal art collection, his collection of show memorabilia, notes and papers relating to his work, and tapes of all of his more than 900 episodes of "California's Gold" and associated shows ("California's Missions," "California's Golden Parks," "California's Golden Fairs," "Road Trip" and many more). His wish was for the university to digitize all the episodes of his shows and make them available, free of charge, to the public online. Following a year-long digitization process, Chapman recently launched http://www.huellhowserarchives.com, where the public can view all of these episodes for free.
Howser also endowed the California's Gold Scholarship at Chapman, a project that was "near and dear to his heart," said President Doti. "He wanted to create a legacy that will make an impact on the lives of students far into the future." The scholarship is presented to selected undergraduates who display a positive outlook and who are actively pursuing ways to improve society.
Howser also donated two houses to Chapman. One of the two residences, in Twentynine Palms, is currently on the market, in accordance with Howser's wishes, and the funds from its sale will support the California's Gold Scholarship and the Huell Howser Archives. The other home, known as the "Volcano House," an iconic Midcentury Modern domed structure atop an ancient volcano in the Mojave Desert, is being used by the university as a base for study trips, filmmaking, writers' retreats and more.
For several years, the Auto Club sponsored "Road Trip with Huell Howser," and Huell's articles on destinations featured in that show also appeared in Westways magazine. He even thought the Auto Club itself was an interesting story, and he produced two shows that were based on its history – one when the Auto Club turned 100 years old in 2000, and another when the magazine achieved its centennial in 2009. When Huell attended Auto Club travel shows, there was always a long line of people waiting to meet him, and he didn't leave until everyone had received an autograph and had had the chance to meet with him.
ABOUT CHAPMAN UNIVERSITY
Consistently ranked among the top universities in the West, Chapman University provides a uniquely personalized and interdisciplinary educational experience to highly qualified students. Our programs encourage innovation, creativity and collaboration, and focus on developing global citizen-leaders who are distinctively prepared to improve their community and their world. Visit us at http://www.chapman.edu.
Follow us on Facebook: http://www.facebook.com/ChapmanUniversity
On Twitter: @ChapmanU
On YouTube: http://www.youtube.com/ChapmanUniversity
ABOUT THE AUTOMOBILE CLUB OF SOUTHERN CALIFORNIA
The Automobile Club of Southern California, the largest member of the AAA federation of motor clubs, has been serving Southern California since 1900. Today, the Auto Club's members benefit from its legendary roadside assistance, insurance products and services, travel agency, financial products, automotive pricing and buying programs, automotive testing and analysis, trip planning services and highway and transportation safety programs. The Auto Club of Southern California Insurance Group has been ranked "Highest in Customer Satisfaction with the Auto Insurance Claims Experience" in the J.D. Power 2013 U.S. Auto Claims Satisfaction StudySM. Information about these products and services is available on the Auto Club's Web site at http://www.AAA.com.
###