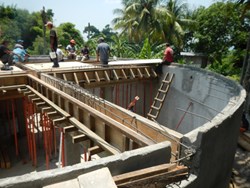 "We have employees who are very passionate about their volunteer work with EWB."
Muscatine, Iowa (PRWEB) February 20, 2014
Three Engineers Without Borders (EWB) chapters have been awarded project grants totaling $17,500 from Stanley Consultants in support of clean water projects in the Honduras, Dominican Republic, and El Salvador.
The Chicagoland Professionals Chapter will receive a $9,000 grant to implement work on the Armenta Water Distribution Project in the Honduras. The Phoenix Professionals Chapter will receive a $7,000 grant to implement work on the Carlos Pinto Water System Improvement Project in the Dominican Republic, and the Iowa Professional Chapter will receive a $1,500 grant to investigate work for the El Salvador Water Storage Tank Project.
Engineers Without Borders is a non-profit humanitarian organization that partners with developing communities worldwide to improve quality of life through the implementation of environmentally and economically sustainable engineering projects. Stanley Consultants, a global consulting engineering firm, has been a silver corporate sponsor of EWB since 2010. Gayle Roberts, President and CEO of Stanley Consultants, is on the EWB Board of Directors and a member of the Development Committee.
The core mission of EWB and Stanley Consultants are closely aligned. In the '50s, Stanley Consultants began working internationally, primarily in developing countries, with the purpose of making a difference in the world. "We have employees who are very passionate about their volunteer work with EWB. I've seen the impact the projects have had in the local communities, as well as the impacts the experience has had on the volunteers personally," said Roberts.
Stanley Consultants encourages its employees to use their professional skills by volunteering on engineering projects through local EWB chapters. These EWB chapters make a five-year commitment to work with the developing community to identify, design, and construct sustainable infrastructure projects. The three grants support projects that are either lead or significantly contributed to by Stanley Consultants employees.
The Chicagoland Chapter has made multiple trips to Armenta, Honduras, working to provide adequate water storage for the 2,000 residents who receive water from a mountain stream but don't have adequate sanitary water storage or distribution. During an upcoming spring trip, chapter members will connect a 55,000 gallon water storage tank to an existing tank, and install waterlines throughout the village that will provide each home access to fresh water each day.
The Phoenix Chapter adopted the Carlos Pinto Water System Improvement Project in 2012. This remote Dominican Republic community has 1,300 residents, many of whom suffer from dermatological and gastrointestinal illnesses from drinking and bathing in unsanitary water. This spring the chapter will travel to Carlos Pinto to install a chlorinator, water distribution system improvements, and home water storage units. The village's water system operators will also receive training and education on home disinfection.
In 2012, the Iowa Professional Chapter designed and installed a water tank in El Salvador. The chapter is planning a return trip in 2014 to investigate expansion of the water distribution system with the goal of preparing to construct a second water storage tank.
Stanley Consultants provides program management, planning, engineering, environmental and construction services worldwide. Recognized for its commitment to client service and a passion to make a difference, Stanley Consultants brings global knowledge, experience and capabilities to serve clients in the energy, water, transportation and Federal markets. Since 1913, Stanley Consultants has successfully completed more than 25,000 engagements in all 50 states, U.S. territories, and in 103 countries. For more information on Stanley Consultants, please visit http://www.stanleyconsultants.com.