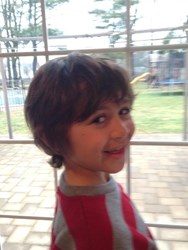 'This is a way of letting these kids know that they are not fighting alone.'
Farmingdale, NY (PRWEB) February 21, 2014
The manufacturing industry is made up of working people and families that never seem hesitant to contribute to something greater than themselves, their company, and their immediate community. One example of this is rivet and fastener supplier, Rapid Rivet & Fastener Corp.'s recent support of Saint Baldrick's Foundation. V.P. of Operations, Mark Giovannini and his family have sparked a wave of generosity within the company that he hopes will extend through the fastener industry and others.
The real root of Rapid Rivet & Fastener Corp.'s contribution actually starts with Mark Giovannini's son Jack, who learned of the cause one day at school. Dedicated to furthering the research and abilities of pediatric oncologists, St. Baldrick's Foundation is comprised of volunteers and donors who raise funds through local community events. These events have gained special notice as sponsored individuals come together to shave their heads.
Every year, tens of thousands of participants meet at local pubs and restaurants, firehouses, schools, churches, military bases and other locations. They leave with less hair and make a significant impact, even after the event. Through this action, supporters do more than raise funds; they show a clear sign of support and solidarity with those who are affected by childhood cancer.
Jack was so inspired upon learning about this and so moved to take part, he urged his parents to do more than just donate, but allow him to join as an active supporter and shave his head in an upcoming St. Baldrick's Foundation event. The March 8, 2014 shaving event will be held at Napper Tandy's Pub in Northport, NY. Leading up to this, Jack and his family, Rapid Rivet & Fastener Corp., and other local supports, helped to exceed a donor goal by $1000.00. In addition to showing his support through shaving his head—which is more than a basic haircut, as Jack has been growing his hair since the previous September—his participation will amount to $1500.00 in donated funds to St. Baldrick's Foundation and their mission.
Rapid Rivet & Fastener Corp. is proud to contribute to this organization and to help encourage young people like Jack to take part in the fight against devastating illness, which affects more and more lives. As Jack's father and V.P. of Operations at Rapid Rivet, Mark Giovannini explains, "I had heard about this organization in the past but never thought too much about it. Then my son came to us with the idea of getting involved. We were a bit against it at first but once we experienced these young school kids getting their heads shaved, being fully aware of the reason for it, it just all clicked. Cancer has a merciless reach that affects us all. This is a way of letting these kids know that they are not fighting alone." This notion went on to inspire Mark's colleagues within the company, their community and industry. "This news just solidifies the family feel of Rapid Rivet & Fastener. It has been a great team building experience. I have hopes that this will show the industry that there are real people behind our phones and emails and we do care on multiple levels."
Rapid Rivet & Fastener Corp will also be sponsoring a Halfway To Saint Baldrick's event on Saturday, September 13th, 2014 at the Elijah Churchill Public House in Fort Salonga, NY. The head shaving event will include music, raffles and refreshments while raising funds for Saint Baldrick's and their ongoing mission. Donations can still be made to sponsor Jack for the March 8th Napper Tandy's Pub event by visiting http://www.stbaldricks.org/donate and entering participant ID: 664773
About Rapid Rivet & Fastener Corp.
Established in 1985, Rapid Rivet & Fastener Corp. has grown to be a well known and trusted supplier of aerospace and commercial rivets, threaded inserts, and other fastener components, tools, and accessories. They specialize in rivets made from only the most high quality materials, designed to suit the diverse and rigorous demands of aerospace, aviation and commercial manufacturing industries. For more information, please visit http://www.rapidrivet.com.