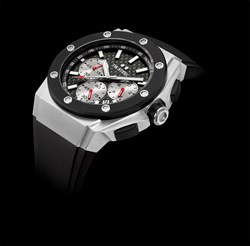 (PRWEB) February 21, 2014
Amsterdam, The Netherlands (February 21, 2014) – TW Steel, the global lifestyle brand 'Big in Oversized Watches', today unveiled the latest editions to sport brand ambassador David Coulthard's name. With 2014 marking the 20th anniversary of the Scottish Grand Prix star's debut in Formula One, TW Steel has created a new CEO Tech David Coulthard Special Edition to commemorate the occasion.
Available in two sizes, CE4019 (44mm - £575 / €639 / $899 US) and CE4020 (48mm - £595 / €679 / $949 US) these stunning watches are the third editions representing the collaboration between Coulthard and TW Steel. They follow the success of the first models introduced to the CEO Tech range in 2011, CE4001 (44mm) and CE4002 (48mm) followed by 2012's CEO Diver David Coulthard Swiss Automatic Limited Edition (CE5005).
The 2014 CEO Tech David Coulthard editions feature a stainless steel brushed case, complimented by a sandblasted PVD black coated bezel with steel screws. The case houses the powerful, state-of-the-art Miyota 6S20 chronograph movement while David's name features on the case back.
With an acknowledgement to David's famed motorsport heritage, including 13 Grand Prix victories, these pieces sport a sleek, masculine carbon fiber design on the dial with the visually distinctive larger chrono eyes furthering its appeal. Complete with sapphire crystal and 10 ATM water resistant, a black silicon strap with brushed steel clasp finishes the bold look of Coulthard's latest executions.
"David (Coulthard) continues to be an exemplary brand ambassador for TW Steel," stated TW Steel CEO, Jordy Cobelens. "His popularity is truly global and we wanted to mark the 20th anniversary year of his Grand Prix debut with something special. The new CEO Tech edition is a tribute to his stellar career and a celebration of our own relationship, which started with David back in 2010. We couldn't ask to work with a more engaging ambassador and I know these models will reflect his worldwide appeal."
"I certainly consider it a privilege to once again have another timepiece from TW Steel with my name on it," remarked David Coulthard, now an F1 commentator for the BBC. "Honestly I can't believe it's been twenty years since my first Grand Prix but given we're celebrating time then it's only fitting to do that with a watch. I'm continually amazed at the creativity of TW Steel and how well they design a piece around a concept. I think my new CEO Tech is testament to the brand's bold look and statement making style!"
TW Steel is a private, family-owned company founded in Amsterdam in 2005 now retailing in over 100 countries and counting worldwide. The brand is the 'Official Timing Partner' of the Sahara Force India Formula One Team, and is an 'Official Sponsor' of the Yamaha Factory Racing Team in MotoGP.
ENDS – http://www.twsteel.com / @TWSteel
For further information please contact Stuart Morrison – TW Steel PR & Communications Manager: Tel: +1 514 684 2621 / Email: stuartm(at)twsteel(dot)com
Press releases and high resolution product images are available to download via the 'Media' section on the official TW Steel website – http://www.twsteel.com - Username: pressmember / Password: twxs01
About TW Steel:
With its name meaning 'The Watch in Steel', TW Steel is firmly established as a big, bold, global lifestyle brand. Its timepiece collections are reflective of, and available for all tastes and occasions with innovative design and luxurious styling paired together with Swiss build quality and an exceptional price point. TW Steel offers a defined sense of individuality and shows to the world that as a bold and ambitious personality, you wear a statement watch that truly reflects who you are.
Proudly Dutch, TW Steel is led by its entrepreneurial CEO and co-owner Jordy Cobelens – whose talents have been recognized with Ernst & Young's 'Emerging Entrepreneur of the Year 2011' in The Netherlands. While Jordy Cobelens oversees the building of the TW Steel brand, his father and co-owner, Ton Cobelens, serves as the Chief Design Officer. Having launched in 2005, and now with 125 models, TW Steel has attained a global appeal while creating an internationally recognized and respected brand name offering truly affordable luxury available in over 100 countries.