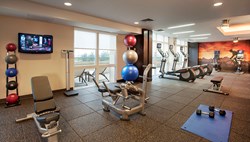 The preservation of our guests' healthy lifestyle is important to us.
McLean, VA (PRWEB) February 20, 2014
The Courtyard by Marriott in McLean, Virginia, is now the proud owner of the largest fitness center of any Tysons Corner, VA hotel. The large-scale renovation project, which cost just over $300,000, was prompted by the hotel's dedication to providing guests the opportunity to maintain their wellness and standard of fitness while away from home. "The preservation of our guests' healthy lifestyle is important to us," says Heather Hull, General Manager of the Courtyard Tysons. "We hope our guests are pleased with our commitment to fitness and well-being; so far the feedback has been terrific."
The new Tysons Corner fitness center is certainly a sight to behold. This hotel gym boasts 1,500 square feet of space, four brand new treadmills, four brand new elliptical machines, a yoga area, a strength trainer, a large selection of free weights, and HD televisions on all the cardio equipment. Guests who choose to take advantage of the new fitness center will be satisfied that it compares favorably to any national gym chain.
In fact, world-renowned fitness expert and trainer Lisa Reed recently visited the Courtyard Tysons to shoot an instructional video that demonstrates four different exercises designed to help travelers stay fit while on the road. "Regular exercise is a key component of a healthy lifestyle," Reed says. "It's important to maintain your exercise routine when traveling. I'm extremely impressed with the new fitness center that the Courtyard by Marriott Tysons Corner offers its guests." The Courtyard by Marriott Tysons Corner has entered into a partnership with Lisa Reed, whereby Reed will be available to train guests in the brand new fitness center for a nominal fee.
The hospitality industry has for years led the way in promoting a healthy lifestyle for its customers. The Courtyard by Marriott in Tysons Corner will now be the torch-bearer in its region, showing other properties what it takes to have an unrelenting commitment to their guests' satisfaction.
About WashDCHotels.com
Based in Bethesda, MD, WashDCHotels.com is a DC destination and tourism site for the B. F. Saul Company Hospitality Group, a subset of a larger, private real estate firm, B. F. Saul Company. Within the Hospitality Group the company represents a collection of full service, select service, and extended stay hotels located in MD, VA, MI and FL. WashDChotels.com serves both business and leisure guests seeking first class DC hotel accommodations, Washington, D.C. area meeting facilities, and banquet venues. The company also operates two IACC Certified Northern Virginia Executive Conference & Training Centers. To learn more about the B. F. Saul Company Hospitality Group go to http://www.bfsaulhotels.com