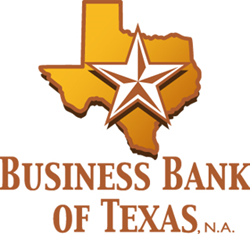 "These promotions are the result of dedication and exemplary performance in the service of our customers." CEO, Chairman of the Board, Ed Lette
Austin, TX (PRWEB) February 25, 2014
Business Bank of Texas announces EVP/CFO Mary Ann Hebel has taken a leave of absence. Mary Ann is a key member of the leadership team and one of the co-founders of the bank. As she temporarily steps down from the daily responsibilities, she remains on the board of directors and as an advisor to the executive team.
In the interim, Dwayne Kolly has been named as the controller of the bank. Mr. Kolly comes to Business Bank of Texas with 29 years of experience in banking with a specialty in financial management and operations.
Business Bank of Texas shares it's record success in 2013, as it achieved growth of loans by 34% and demand deposits by 100% while still maintaining a 5 Star Rating with Bauer Financial. The bank also added commercial loan officers in Austin, San Antonio and Dallas.
To support this level of growth, CEO, Ed Lette is pleased to announce the promotions of three key team members. "It was with Mary Ann Hebel's recommendation that we moved forward with the promotion of our outstanding employees. These promotions are the result of dedication and exemplary performance in the service of our customers."
DJ Lewis has been appointed First Senior Vice President. Mr. Lewis is responsible for business development and relationship management for Business Bank of Texas, N.A. in the Austin market. He serves on the board of the Austin Regional Manufacturing Association (ARMA) and lead the efforts for Business Bank of Texas to become a Cornerstone founder of the association.
Staci Baban has been promoted to Chief Operations Officer. Ms. Baban manages the daily operations of the bank, and leads the operational staff. She also serves as the bank's regulatory liaison.
Mary TD Winters has been promoted to Chief Credit Officer. Ms. Winter's responsibilities include managing the loan operations, administration, and credit underwriting of the bank. TD also represents the bank at Austin Construction NACM meetings.
The bank's business model focuses on low to no fees, experienced staff and exceptional customer service while utilizing innovative technology for its commercial clientele. The bank's full suite of online options delivers the ultimate ease and convenience resulting in substantial time and cost savings for business owners.
About Business Bank of Texas, N.A.
Established in 2007 with its headquarters in northwest Austin, and serving customers across the state, Business Bank of Texas, N.A., is dedicated to meeting the needs of businesses and entrepreneurs across the state. Founder, President and Chief Executive Officer, Ed Lette, has become founding president of four national bank charters, including Business Bank of Texas, and has served as Chief Financial Officer for five national banks over the course of his 45-year career. Co-founder, Mary Ann Hebel serves on the board of directors. Business Bank of Texas maintains a five-star rating from Bauer Financial, Inc.
About Bauer Financial, Inc.
Bauer Financial, Inc. analyzes and reports on the financial condition of the nation's banks, thrifts and credit unions - commonly known as primary financial institutions. The five-star rating system, introduced in 1988, is nationally recognized as "the bank rating system."