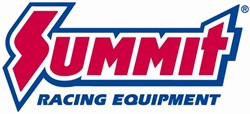 Tallmadge, OH (PRWEB) February 20, 2014
Summit Racing now has a complete line of Champion motor oil for high performance street machines, racing, and diesel vehicles. Champion has been making specialty lubricants for almost 60 years, so they know a thing or two about protecting high performance engines.
Classic & Muscle High Performance Synthetic Blend Motor Oil
Champion's Classic & Muscle High Performance synthetic blend motor oil contains high levels of premium ZDDP anti-wear protection for engines running flat tappet cams, or engines with roller cams operating at high rpm and using high-pressure valve springs. This motor oil's exclusive TVS technology delivers unmatched film strength at high temperatures, better piston ring seal for maximum compression, and it helps improve torque production. Available in 10W30 and 20W50 weights.
Full Synthetic Racing Motor Oil
Available in 15W50, 0W30, and 0W20 weights, this full synthetic motor oil is proven to provide more horsepower and torque over the other leading brands of racing oil. Champion Racing Oil offers exceptional film strength and viscosity stability with less drag. That means reduced friction for longer engine life and more power. The oil is compatible with all racing fuels (including methanol) as well as other petroleum and synthetic oils. Summit Racing also offers Champion Racing Oil in a synthetic blend in 10W30, 20W50, 50, 60, and 70 weight formulas.
Classic Blue Flame Synthetic Blend Diesel Motor Oil
Diesel engines can beat the hydrocarbons out of motor oil. Champion's Classic Blue Flame diesel motor oil is uniquely formulated for pre-2007 diesel engines. It delivers unmatched high-temperature film strength and lubricity protection. It combats oil shear, maximizes and sustains cylinder compression, and is proven to increase engine horsepower and torque. Anti-wear and detergent additives provide increased protection at high temperatures and under heavy loads.
For turbo-, supercharged, and late model diesels with exhaust gas recirculation (EGR) and diesel particulate filter (DPF) systems, Summit Racing offers Blue Flame full synthetic diesel motor oil. It provides maximum engine lubrication and wear protection and also meets or exceeds emissions requirements.
Summit Racing also carries Champion single-weight motor oil, non-detergent motor oil, assembly lube, air compressor oil, and air tool oil.
See All Champion Motor Oil Products at Summit Racing
Summit Racing Equipment
http://www.SummitRacing.com
1-800-230-3030