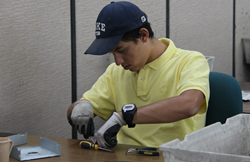 AT&T is the logical choice to provide reliable emergency voice and data services for our TRiLOC™.
Montreal, Canada (PRWEB) February 26, 2014
Paired with Bluetooth™ 4.0 technology, TRiLOC™ is able to communicate with iLOC accessories, smart phones and third party devices*. Setup and GPS tracking is simple using the browser based iLOC TrackNow™ secure web site or Smart Apps for iOS and Android™ phones and tablets**. For the wearer's safety and convenience, an SOS button with two-way voice is included along with being waterproof for swimming and bathing***. Weighing only 3.1oz, TRiLOC™ can operate for up to three days on a full charge.
Three years of market research and product innovation went into the award winning (MedTrade 2013) development of TRiLOC™. It was specifically designed for individuals with special needs such as Autism Spectrum Disorder (ASD), Alzheimer's disease or for individuals that may require emergency assistance inside or outside of the home or work****. The watch was extensively tested by families and institutions and found to be the most advanced wandering prevention device. TRiLOC provides peace of mind for parents and caregivers by reducing the need for constant supervision and allowing children and seniors to enjoy more independence*****.
In the U.S., TRiLOC™ is covered under HCPCS S5162 and ICD9/10 diagnostic codes so customers can submit insurance claims to cover the cost of the device. Additional details on pricing and service plans are available on the iLOC Technologies website, http://www.iloctech.com.
"Strategically, we wanted to align ourselves with the best wireless service provider to achieve the highest level of customer satisfaction. AT&T is the logical choice to provide reliable emergency voice and data services for our TRiLOC™," says Yves Messier, iLOC CTO.
As the parent of a son with Autism (ASD), Tony Fama, iLOC President and CEO experienced his child wandering, and this heart wrenching experience led to the development of TRiLOC™. "In 2009 while vacationing at a popular theme park I turned away for a few seconds and my son wandered off. When I got back home, I strongly felt I should do something so other families wouldn't have to go through that stress."
"Being in the electronics industry for many years, we decided to develop our own product, but do it right based on our firsthand knowledge of the needs as a parent and care giver. Product development was coupled tightly with market research involving parents of children with ASD and caregivers of the elderly. Our TRiLOC™ solution is based on real life input from people who live with this every day. I am the company's first customer and use our product every day," Tony said.
*Coverage and service not available everywhere
**As with all location-based services, it may not always be possible to determine your location. Fall detection is not 100% accurate; the call button should be pushed in an emergency.
***Water resistant; designed to be worn in the shower (IP67)
****Device is not capable of dialing or receiving 911 calls.
*****This is not a medical device and does not provide medical advice, which should be obtained from qualified medical personnel.
About iLOC Technologies Inc.
iLOC Technologies Inc. is a privately held corporation headquartered in Montreal, Canada. Its mission is to provide leading edge, cost effective and innovative wandering prevention, fall detection and mobile personal emergency response solutions (mPERS) serving at risk individuals for both personal and commercial applications.
About AT&T
AT&T Inc. (NYSE:T) is a premier communications holding company and one of the most honored companies in the world. Its subsidiaries and affiliates – AT&T operating companies – are the providers of AT&T services in the United States and internationally. With a powerful array of network resources that includes the nation's fastest and most reliable 4G LTE network, AT&T is a leading provider of wireless, Wi-Fi, high speed Internet, voice and cloud-based services. A leader in mobile Internet, AT&T also offers the best wireless coverage worldwide of any U.S. carrier, offering the most wireless phones that work in the most countries. It also offers advanced TV service with the AT&T U-verse® brand. The company's suite of IP-based business communications services is one of the most advanced in the world.
Additional information about AT&T Inc. and the products and services provided by AT&T subsidiaries and affiliates is available at http://www.att.com/aboutus or follow our news on Twitter at @ATT, on Facebook at http://www.facebook.com/att and YouTube at http://www.youtube.com/att.
© 2013 AT&T Intellectual Property. All rights reserved. AT&T, the AT&T logo and all other marks contained herein are trademarks of AT&T Intellectual Property and/or AT&T affiliated companies.
Contact Information:
iLOC Technologies Inc.
6500 Trans-Canada Hwy, suite 340
Pointe-Claire, Quebec, Canada H9R 0A5
T: 514.987.4562
Toll Free: 855.987.4562
info(at)iloctech(dot)com
http://www.iloctech.com