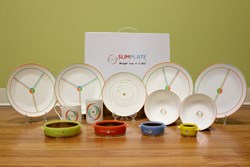 It reflects how we should be eating to have a healthy weight.
Rock Hill, SC (PRWEB) February 21, 2014
"In my primary care practice, I see my patients every three months and they are increasing their weight every visit. In an average, currently, the way we eat in United States is putting us to gain about 13- 26 pounds every year," said Dr. Nwe, "The main reason is we are consuming way too many calories. The only way to resist is to portion control." Many of my patients are using the SlimPlate system and they are the proof."
These SlimPlate portion plates design is based on how much we need to eat, how to we achieve balance meals to improve our metabolism, and it should be applicable to everyone, man, woman, different ethnicity and different food choice. It reflects how we should be eating to have a healthy weight, so it resembles how our forefathers used to eat in pre-obesity era.
There are many other factors like food quality and sedentary lifestyle are part of the obesity mechanism, but it is easy to tackle the basic challenge, most important, and achievable problem first. The SlimPlate System doctors are adding the New Online Weight Loss Program which teach the participants in four steps/ four months duration in healthy cooking, healthy food choice and behavioral changes as their weight loss journey is advancing.
We can discuss further on these topics to benefit your audience:
7 Simple changes to improve metabolism and maintain a healthy weight
7 Popular myths about weight loss actually hurting us to lose weight
7 Small steps to resolve the abnormal eating behavior such as, Food Addiction, Food Binging, and Food Craving.
7 Roadblocks keep us in status quo of weight problem
What is a successful weight loss program and how you can achieve it
CREDENTIALS: Dr. Sandeep Grewal and Dr. Myo Nwe are the founders of Ace Medical Group, the inventors of the SlimPlate System and its related mobile apps. Dr. Nwe is a diplomate of the American Board of Obesity Medicine and Internal Medicine. Dr. Grewal a diplomate of the American Board of International Medicine. He has been named one of Charlotte Business Journal's "Forty Under 40", received the magazine's 2012 "Innovation in Health Care" award and Vitals "Top 10 Doctor" 2013 award.
AVAILABILITY: North and South Carolina, nationwide by arrangement and via telephone; often available last-minute.
CONTACT: Dr. Sandeep Grewal, (803) 524- 3740 (SC); doctor(at)acemedicalgroup(dot)org, http://www.slimplatesystem.com