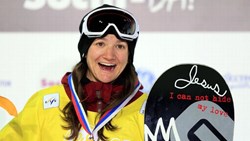 CEO of Simply G Media GJ Reynolds said, "Kelly sees that her foundation is her life's work. She knows that she will have to retire from snowboarding but she can still be involved in this sport."
(PRWEB) February 21, 2014
Neil Haley, The Total Tutor host of the Total Education Celebrity Show, interviewed Kelly Clark to find out about her foundation and why she started it.
Clark is one of the most decorated athletes in halfpipe history, male or female, with over 65 wins in competition. Her meteoric rise established expectations of greatness and a legacy that only she can top. Clark scooped a mind-blowing 23 podiums before she was an adult. Since then, she's added multiple X Games medals, a record setting six US Open pipe wins, and Olympic Gold and Bronze, setting the stage for a competitive streak few can follow. Even after a 16-win competition streak in 2010-2011 and two more US Open titles, Clark has kept her foot right on the gas pedal and is competing at the 2014 Winter Olympics in Sochi, Russia.
In the interview, Clark talked a lot about her foundation and says she wanted to start her foundation with an aim to make people successful through avenue snowboarding. "We have the scholar program pursuing the same career I did," Clark said. "So far we've funded 25 kids. We also have a passport program where people who have never seen snow or have never been on a snowboard have that opportunity."
Clark's The Kelly Clark Foundation is partnering with Station Camp, a youth transforming and empowering snowboarding camp, and STOKED, an action-sports mentoring program, to extend the reach of her help. Through her efforts she hopes to expose kids to new snow-sport-related opportunities.
On the show, Clark explained that she wants her programs to increase self-esteem, help with goal setting, and help with school attendance.
"Running a non-profit organization is like running a corporation," Clark said. "We have to make as much money as we can to give away. Snow boarding is a full time job, year round. I want put my efforts for a long time to come through my foundation."
Clark discussed her board of directors, saying that they've done a great job so far, and they have given out $50,000.
"I want look back snowboarding to help people be successful in sports and successful in life."
CEO of Simply G Media GJ Reynolds said, "Kelly sees that her foundation is her life's work. She knows that she will have to retire from snowboarding and she is able to still be involved in this sport."
Clark finished up the interview by discussing how she trains and how people can help.
You can find out more information on Kelly Clark by going to http//http://www.kellyclarkfoundation.org. You can listen to the radio interview now by going http://www.simplygmedia.com.