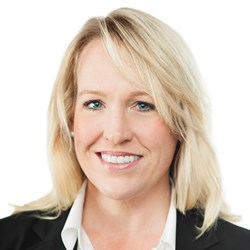 As Senior Broker Associate, Brooks will be working with buyers and sellers of residential homes, condos, lofts, and new construction throughout the city of San Francisco.
San Francisco, CA (PRWEB) February 20, 2014
San Francisco-based Climb Real Estate Group is pleased to announce their affiliation with Rebecca Brooks, who will join the real estate team as Senior Broker Associate. An accomplished residential real estate agent, Brooks comes to Climb with over 16 years of sales experience in residential general brokerage. She was first licensed in 1998 and earned a broker's license in 2005. In addition to working in San Francisco, she has also sold properties in Marin and Alameda Counties.
"I was eager to join Climb because they have such a modern, tech-savvy approach to real estate. Climb's marketing materials and web presence are the best in San Francisco," said Brooks. "The collaborative atmosphere within the office encourages agents to share our knowledge and learn from each other. I'm able to provide better service to buyer clients because I have early access information about upcoming property listings. Also having Climb's administrative and marketing team back at the office frees up my time and allows me to focus more on customer service and less on paperwork."
As Senior Broker Associate, Brooks will be working with buyers and sellers of residential homes, condos, lofts, and new construction throughout the city of San Francisco. Over the next few years with Climb, she hopes to grow her business; nurture relationships with her clients, fellow agents, and vendor partners; and eventually become one of Climb's Top Producers.
When asked about her specialties, Brooks said, "I love to work with sellers who need guidance in preparing their property for sale. Many of my seller clients are out-of-the-area and find it difficult to arrange preparations from afar. I have a great list of vendors such as painters, cleaners, and stagers, and I'm able to project manage the entire process. I communicate with my clients via video, Skype or FaceTime calls. I also enjoy working with first-time buyers because I like their enthusiasm. My favorite part of the business is handing over the keys to an excited new homeowner."
"I am thrilled that Rebecca Brooks has joined our team," Michelle Balog, Climb's Managing Sales Director, said. "She shares our values and our focus on innovation, and she places the same strong emphasis as we do on the customer experience. She has shown herself to be an extraordinary leader throughout her career and has a proven track record of real estate sales throughout San Francisco and Marin."
"The addition of Rebecca Brooks will take our real estate sales team to the next level," said Tiffany Combs, Managing Broker. "She is a major real estate agent with a longstanding track record and we are excited to see her vision help us further develop into the neighborhoods of San Francisco."
Brooks holds degrees in psychology and sociology and has a Paralegal Certification from Northeastern University. She holds the SRS (Seller Representative Specialist), CHS (Certified HAFA Specialist), and AREO (Accredited REO Agent) designations. She also enjoys taking on-line courses in technology and real estate sales. When not busy with real estate, Rebecca enjoys swimming, trail running, and cross-fit training. She's also an avid reader and a San Francisco Giants fan. She shares her Sausalito home with her best friend, Blue–a cat she adopted from the MILO foundation.