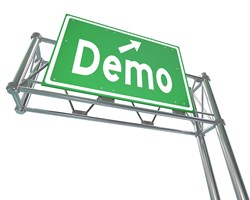 An Infusionsoft demo from GetUWired explains all the ins and outs of Infusionsoft's marketing software.
(PRWEB) February 20, 2014
Infusionsoft offers business owners incredible marketing power and flexibility. But like any new technology, busy entrepreneurs and business owners can get a little gun-shy at the thought of taking on and learning new software. Will it be easy to use? Will it be worth the investment? That's where an Infusionsoft demo from GetUWired comes in.
GetUWired' Infusionsoft demo will show you everything you need to know
GetUWired offers free Infusionsoft demos that illustrate exactly how Infusionsoft works and how it can help any business meet and exceed its marketing goals.
GetUWired's Infusionsoft demo starts by meeting with an Infusionsoft Certified Consultant. The ICC will interview the business owner about their company and get a good idea of their particular needs. The business owner will explain what they'd like to use Infusionsoft to accomplish, and the ICC will consult them on the best ways to achieve those goals.
Every step is illustrated.
The Infusionsoft demo is held via the online meeting software GoToMeeting, so the business owner and the ICC can talk and share screens at the same time. This way, the ICC can walk clients through the different aspects of the program and show them just how easy it is to harness the power of Infusionsoft. Consultations last 30 minutes to an hour and are completely free.
After the Infusionsoft demo, GetUWired offers everything necessary to get started with Infusionsoft.
GetUWired offers full Infusionsoft setup, training, implantation and everything else a busy business owner needs to ramp up their marketing efforts using Infusionsoft.
Schedule your Infusionsoft demo today.
To schedule your demo, call GetUWired at 877-236-9094 or visit http://www.getuwired.us.