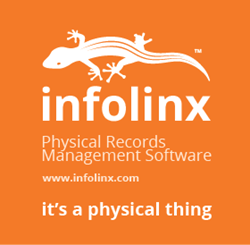 Kensington, MD (PRWEB) February 20, 2014
Infolinx System Solutions, a leading provider of physical records management software, announced the integration of Kofax Capture into their enterprise class Infolinx WEB application. While continuing to provide the industry's leading physical records management feature set, this latest Infolinx WEB integration extends solution functionality by automating and accelerating business processes via the capture of paper-bound data, indexing and transforming it into accurate and actionable information. Scheduled for release in Q2 2014, the integration will be available as an add-on to all Infolinx WEB editions.
"We are thrilled to partner with a best-in-class provider like Kofax," said Tim Butler, Infolinx Managing Director. "The integration of our technologies will provide our clients with yet one more tool for managing their ever growing repositories of information."
About Kofax
Kofax® Limited is a leading provider of smart process applications for the business critical First Mile of customer interactions. These begin with an organization's systems of engagement, which generate real time, information intensive communications from customers, and provide an essential connection to their systems of record, which are typically large scale, rigid enterprise applications and repositories not easily adapted to more contemporary technology. Success in the First Mile can dramatically improve an organization's customer experience and greatly reduce operating costs, thus driving increased competitiveness, growth, and profitability. Kofax software and solutions provide a rapid return on investment to more than 20,000 customers in banking, insurance, government, healthcare, business process outsourcing, and other markets. Kofax delivers these through its own sales and service organization, and a global network of more than 800 authorized partners in more than 75 countries throughout the Americas, EMEA, and Asia Pacific. For more information, visit kofax.com.
About Infolinx®
Infolinx System Solutions is a leading provider of DoD5015.2-certified enterprise physical records management software. Full life cycle records management for archives, records centers, and file rooms includes integrated Enterprise Content Management, third-party warehouse integration, robust searching, online requesting, complete audit history, location reconciliation, supply item ordering, retention schedule and legal holds management, integrated RFID technology, space management with charge-back functionality, extensive reporting capability, advanced security configuration, workflow email notifications, and legacy data sharing. Available as an on-premises or cloud-based solution, Infolinx maintains clients within all major business segments and the public sector. Infolinx System Solutions Demo.