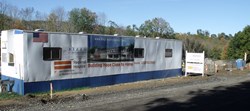 Building hope close to home.
Danbury, CT (PRWEB) February 19, 2014
The Rizzo Companies are honored to take part in the construction of a new hospice building. Construction is already underway and the new facility is expected to open to patients and families in fall 2014.
This will be the state's first dedicated hospice facility to provide private patient suites in a home-like setting. Six acres of tranquil wooded property in Danbury, CT have been acquired, and plans are in place to bring all aspects of the agency under one roof. The 35,000 plus sq. ft. building will be licensed as a specialty hospital and will include 12 private-patient suites, a family kitchen, chapel, library, living rooms and common gathering areas, spa with massage therapy, Reiki and hair salon, patios and a meditation garden.
The Regional Hospice Center will also house the Healing Hearts Center for Grieving Children and Families. Visitors will be welcome 24 hours a day to visit and stay with their loved ones. The Rizzo Companies are proud to be a part of this project and look forward to providing patients and families with the high quality facility that they deserve.
For more information about this project or any other project the Rizzo Companies are currently working on, please contact Chelsie Rizzo at 203-731-3131 or crizzo(at)rizzocompanies(dot)com.
About the company:
Possessing over 50 years of experience and a wide-ranging background in General Construction and Construction Management, Rizzo Corporation beats out competitors in providing dependable service with their extensive knowledge in construction and their innate ability to understand their client's needs. With an exceptional reputation in safety, Rizzo is committed to quality workmanship and there is always hands-on involvement by senior management, no matter how big or small the project may be.