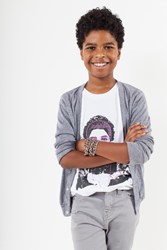 "I want to inspire boys and young men to action by producing wearable art that lives with you." - Santana Draper
Houston, TX (PRWEB) February 20, 2014
After overhearing the adults discussing how a storm had devastated the lives of some families--including wiping out the recent Christmas' presents for the kids--a very young Santana Draper walked into the room with an armful of his toys and told his Mom, "You can give them my toys, I can make more out of paper."
Santana likes to work in paper—he'd created many sketches, some of which his mother, Natalie, had turned into t-shirts for him, garnering inquiries from other moms "My son wants one of those, where did you get that shirt?"
Santana's parents, Natalie Mills and Tony Draper, wanted to support and provide their son with opportunities to create and donate, so they enabled him to develop a limited edition t-shirt series for boys and young men with a portion of the proceeds going to Kids' Meals of Houston.
This is Santana's PaperToyClothing.com - Designing Art With a Giving Spirit.
Natalie looked for a firm to collaborate with them on bringing this online boutique to life.
"We needed a partner that would understand our vision and help us bring it to fruition," stated Natalie Mills, Mom & CEO of PaperToyClothing. "SocialRaise got us! The team created a stylish and functional online store which we can quickly and easily update. More importantly, the SocialRaise team focused on helping us navigate the path to insuring our business is compliant with all the rules and regulations; is easy for our shoppers to use; and, supports our desire to communicate the goals of supporting children in the U.S., beginning with Houston's 5th ward."
During this process, the Limited Release Series 1 was available via Fab.com with Kids' Meals of Houston receiving a portion of the profits.
"We are so grateful for gifts like Santana's. They enable us to provide healthy, home delivered lunches to hungry children under the age of five who are living in poverty. Future donations from PaperToyClothing will help us achieve our goal of increasing the number of daily lunches this year from 1700 to 2500," says Cristina Vetrano, Executive Director of Kids' Meals of Houston.
PaperToyClothing launches wide today.
About PaperToyClothing.com:
PaperToyClothing.com (http://www.papertoyclothing.com/) has also been invited to participate in several special upcoming events, including South by Southwest (SXSW) in Austin and the Houston International Festival.
About Kids' Meals Inc:
Kids' Meals, Inc. is bridging the gap for children ages 1-5 who are not old enough yet to receive free breakfast and lunch in school by providing free, healthy, home-delivered lunches every weekday, year round. Learn more: http://www.kidsmealshouston.org/ or by contacting: Cristina Vetrano, Kids Meals, Inc., cristina(at)kidsmealshouston(dot)org, +1.713.695.5437.
About SocialRaise:
SocialRaise is a Chicago-based company who helps clients create brand awareness, communicate their messages and deliver results in this technology-driven world. Clients range from some of the smallest non-profits to the Fortune 500, though many have a focus on doing good while doing well.