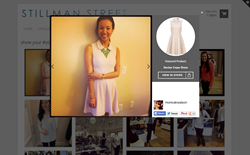 A visual conversation is taking place with or without the retailer. Brands need to embrace social merchandising and amplify their customers' enthusiasm for their products. Those who do will rise above the noise. - Ranvir Gujral, Chute CEO
San Francisco, CA (PRWEB) February 20, 2014
Chute, the complete visual marketing automation platform, today announced Chute Commerce, a social merchandising solution for online retailers. With Chute Commerce, marketers can now easily integrate customer photos and videos alongside professional photos throughout their storefronts and off-site marketing. This creates rich, engaging experiences for shoppers and boosts conversion for brands to drive sales and increase ROI.
Chute Commerce is an extension of the Chute platform, trusted by leading brands and publishers, including The New York Times, Condé Nast, Benefit Cosmetics, Taco Bell, Starbucks and Nike. Marketers and eCommerce managers can use Chute to discover quality customer photos and videos, organize them, clear rights at scale, and publish the photos at every customer touch point, from banner ads to microsites and now to their online storefronts, product display pages and shoppable social hubs.
Social Merchandising
The process of shopping is highly visual and social. Whether in-store or online, buyers make decisions based on input from others. Chute gives retailers all the tools they need to use customer photos across all of their marketing efforts - whether owned, earned or paid.
"A visual conversation is taking place with or without the retailer. Brands need to embrace social merchandising and amplify their customers' enthusiasm for their products. Those who do will rise above the noise," said Ranvir Gujral, Chute Co-founder and CEO. "Benefit Cosmetics is a great example of a company who wants to expand customer engagement across the web. We're excited to work with Benefit as our Chute Commerce launch partner."
"Chute is our go-to partner for UGC campaigns and extending their capabilities onto our eCommerce website is the next logical step. Our girls are already sharing, so we want to create a hub where they can connect with our brand as well as each other. We also want to give consumers a genuine feel for how our products are enjoyed by real customers," said Cindy Shen, U.S. eCommerce and Global Product Director at Benefit Cosmetics.
Chute Commerce At a Glance
Chute Commerce seamlessly integrates with leading eCommerce and analytics platforms and gives online store managers a flexible range of tools based on desired outcomes, whether engagement, differentiation or ROI.
"We recognize eCommerce managers can't waste time integrating new technology or risk site performance. We designed Chute Commerce to be incredibly simple to integrate within a brand's existing eCommerce platform without impacting site response times," said Gregarious Narain, Chute Co-founder and CTO. "Our solution automates the process to both discover and organize customer photos and videos, which saves our customers time and needless frustration, while giving them nearly unlimited access to quality content to differentiate their storefronts."
Key Product Features:
Photo Galleries and Social Hubs: Retailers can highlight customers with photo and video galleries at the brand, category or product level.
Shoppable Ads: Brands can attract both new and repeat customers with dynamic ads powered by customer-inspired photos.
Real-time Metrics: Chute provides complete funnel metrics and integrates with eCommerce and analytics platforms, providing up-to-the-minute data about the success of visual media by tracking consumer engagement, cart size and conversion.
For more information about Chute Commerce visit http://www.getchute.com/solutions/commerce and find the product video here.
###
About Chute
Chute is the most comprehensive visual marketing automation platform on the market today, powering everything from billboards to banner ads to native mobile apps with real time content from brands and consumers. We believe the future of business is visual and our tools to manage, measure and drive engagement have become essential for marketers. Chute works with some of the world's biggest brands and publishers including NBC News, Turner, Condé Nast, the NBA, New York Times, Taylor Made, Samsung and House of Blues Entertainment. For more information, visit http://www.getchute.com.
About Benefit Cosmetics
Benefit Cosmetics is the San Francisco-based makeup brand that believes laughter is the best cosmetic. Known for fun, instant beauty solutions, Benefit provides women with a playful, interactive experience that is truly unique, bold & girly. The action-packed beauty brand has swept the world with one-of-a-kind cult products like Benetint, Dr. Feelgood, They're Real mascara & the POREfessional. Benefit is one of the fastest growing prestige beauty brands in the business with over 4000 counters in 40 countries. Famous for Brows, Benefit has been arching, waxing & filling brows for over 35 years. With over 1000 Brow Bars & Boutiques worldwide, the brand has become the brow authority where girls in-the-know get brows on-the-go! Benefit is part of the world's leading luxury products group, Louis Vuitton Moet Hennessy. http://www.benefitcosmetics.com.
Media Contact
Jody Farrar
Jody.farrar(at)getchute(dot)com