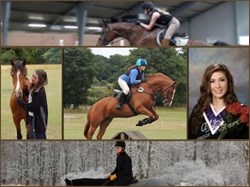 The Young Riders ProChaps Team program is proof that the young riders today are more passionate than ever about their sport.
Montreal, Canada (PRWEB) February 20, 2014
ProChaps, a Canadian manufacturer of equestrian riding chaps, reports that the response to their new Young Riders ProChaps Team program is proof that the young riders today are more passionate than ever about their sport. They train with the best coaches, they compete, even more than adults, and they are all over social media. They are very much involved!
There was a bit of worry about the new generation of horse riders because the number of youth involved in the sport has decreased since the 2000s. In the U.S., 62% of equestrians are over the age of 45, according to the http://information.php AHP 2012 Equine Industry Survey. This follows the general demographic trends.
In January, ProChaps created the Young Riders ProChaps Team program. This program is a partnership about growth and collaboration. The riders are working hard to become a better at their craft, and to have more success in their field. ProChaps aims to be known outside of its usual circles and contribute more and more to the equestrian community.
As part of the program, the riders receive some chaps, are featured on ProChaps social media and receive coaching on growing their own social media network while simultaneously promoting ProChaps. This prepares them to interact with a sponsor. The best riders are often the ones who have a huge presence on social media. They typically get more sponsors, which gives them better equipment, which in turn helps them in becoming better riders. More presence on social media also gives them more value, more exposure and more credibility.
Moreover, the program will be an ongoing discussion about ProChaps products in the present and future. ProChaps' Young Riders may be invited to be one of the first to wear the innovations that ProChaps has on its back burner for the riding community.
Who are the Young Riders who have been selected to be part of the ProChaps Team - Young Rider Section? They are determined, passionate, courageous. They are role models and inspiration for all of us. Over the nenext year, each of them will be featured on the ProChaps Facebook page and other social media platforms over.
Here they are:

Chloe Habraken, 15, Ontario Canada
Courtney Gibson, 13, England
Mathilde Kvernland, 18, Norway
Shelby Dennis, 18, British Columbia, Canada
Sian Gallagher,13, New Zealand
Over the next year, follow them Facebook, Twitter, Instagram and YouTube and to witness the promising future of the equine industry first-hand.
ABOUT PROCHAPS
ProChaps creates high performance athletic equestrian equipment that is well known for its technical qualities, comfort and exceptional adaptability. ProChaps' unparalleled design is meant to meet the needs of any rider, whether they are professional or amateur. Their unique concept can fit any size from XXS to XXL with elegance and ease. ProChaps products come in 35 sizes, and are practially custom-made.
Sources:
http://www.beta-uk.org/pages/trade/equestrian-industry-information/market-information.php
http://www.thehorse.com/articles/29776/ahp-releases-2012-equine-industry-survey-results-to-public