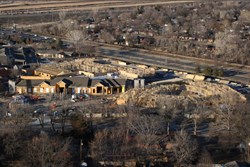 Wichita, KS (PRWEB) February 19, 2014
More than 60,000 Sedgwick County residents are already age 65 or older, and that number is expected to grow substantially within the next 10 years with the aging of Baby Boomers. In an effort to meet the growing demand for senior living options in the area, a $35 million expansion of Wichita Presbyterian Manor is currently underway and on track to open in late summer 2014. Presbyterian Manors of Mid-America (PMMA), owner of Wichita Presbyterian Manor, announced plans for the extensive transformation in fall 2012. The community is located at 4700 West 13th Street in Wichita.
This first phase of the transformation includes 48 modern assisted living apartments, 24 assisted living memory care suites, 50 skilled nursing suites, a PATH® (Post-Acute to Home) rehabilitation wing and new health care common spaces, including a main kitchen.
"There is such a growing need for all these services in Wichita and throughout Sedgwick County," said Mark Schulte, executive director for Wichita Presbyterian Manor. "As a community that has provided quality housing and services to area seniors for more than four decades, it is a natural step for us to expand and transform our campus to continue meeting the needs and desires of seniors for many years to come."
The transformation of Wichita Presbyterian Manor will provide memory care services for the first time. These services will adjust to the changing needs of residents with Alzheimer's or other forms of dementia, and include social and educational opportunities, dining services and maintenance-free living.
"As part of PMMA, an organization that has offered specially tailored memory care programs for seniors for more than 25 years, we are excited to extend this option to Wichita area seniors," said Schulte. "While we are all hopeful for a cure for memory impairment, we understand that demand for these services is likely to increase, and we are responding to that demand by providing a care option that today's seniors and their families desire and deserve."
The new health services addition to Wichita Presbyterian Manor is Phase I of a two-phase campus transformation. Construction of Phase I began in summer 2013. Phase II of the expansion includes The Westerly Residences, which will offer 90 independent living apartment homes in a variety of floor plan options, including amenities such as multiple dining venues and an array of social, cultural, educational, and spiritual programs and activities. As part of the Wichita Presbyterian Manor community, The Westerly residents will have access to on-site health care if they ever need it. Phase II construction is expected to be complete in late summer 2015.
Wichita Presbyterian Manor and The Westerly Residences are part of Presbyterian Manors of Mid-America, Inc., a not-for-profit, faith-based organization comprised of 18 affiliated senior living communities in Kansas and Missouri. PMMA has been serving seniors since 1949, and today serves more than 2,500 residents. For more information about PMMA or Wichita Presbyterian Manor, visit PresbyterianManors.org or WichitaPresbyterianManor.org.